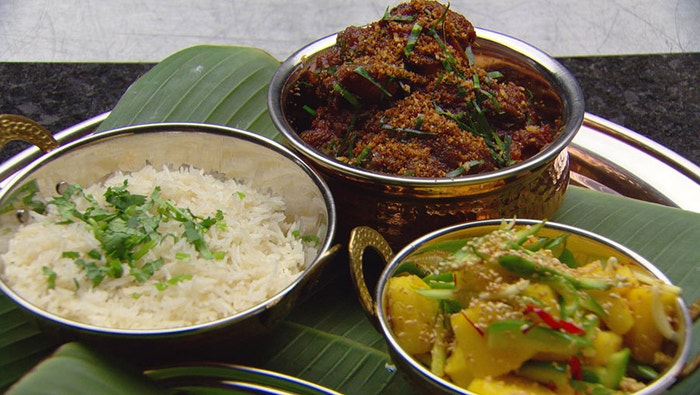 Steps
For the Chicken Rendang, cut and de-seed the dried chillies and place into a bowl. Cover the chillies with boiling water and set aside to soften for 5 minutes.
Blend the softened dried chillies, red chillies, 2 stalks of the lemongrass, turmeric, ginger, 60g of the galangal, red shallots, garlic and 120ml water into a blender and process to a paste.
Add coconut oil to a large pan and place on medium heat. Lightly crush remaining lemongrass and add to the pan. Add remaining galangal and the rendang paste to the pot and fry until fragrant.
Cut the chicken Marylands in half and add pieces to the pan, stirring to coat. Add coconut milk and 20g of the kaffir lime leaves. Bring to the boil, then reduce heat and simmer for 35-40 minutes.
Meanwhile, heat a small frypan over low heat. Add the shredded coconut toast, stirring, until golden brown. Transfer coconut to a tray to cool. Once cool, transfer to a mortar and pestle and grind.
Thinly slice the remaining 10g kaffir lime leaves.
Add salt, 80g of the roasted coconut, kaffir leaves and gula Melaka to the pan of chicken rendang, mix well and remove from the heat. Reserve remaining roasted coconut for garnish.
For the Coconut Rice, wash and drain the basmati rice and place into a microwave safe bowl. Add coconut milk, water, salt and pandan and stir well to combine. Cover with clingfilm and cook the rice in the microwave, stirring occasionally, until cooked, about 14 minutes. Remove from microwave, uncover and fluff with a fork. Cover and keep warm.
For the Pineapple Cucumber Achar, place pineapple pieces into a small pan over medium heat and cook, stirring, until softened.
Transfer cooked pineapple to a mixing bowl with the remaining ingredients and toss gently to combine. Cover and set aside in the fridge for at least 30 minutes.
For the Roti Jala, combine all dry ingredients in a large measuring jug or bowl. Add egg, coconut milk and water and whisk together to form a smooth batter.
Preheat a medium sized non-stick frypan over medium heat. Transfer the batter into the roti jala mould and, working quickly, spin the mould in a circular motion around the pan to create a net design and cook until cooked through.
Once cooked, fold the sides and roll the roti jala into a cylinder. Repeat with the remaining batter.
To serve, trim the banana leaf to the size of the serving platter and place onto the plate. Transfer all dishes to copper serving dishes and add to the serving platter. Sprinkle the reserved roasted coconut and shredded kaffir lime leaves onto the Chicken Rendang. Sprinkle fresh coriander leaves onto the rice. Sprinkle some toasted sesame seeds onto the Achar.