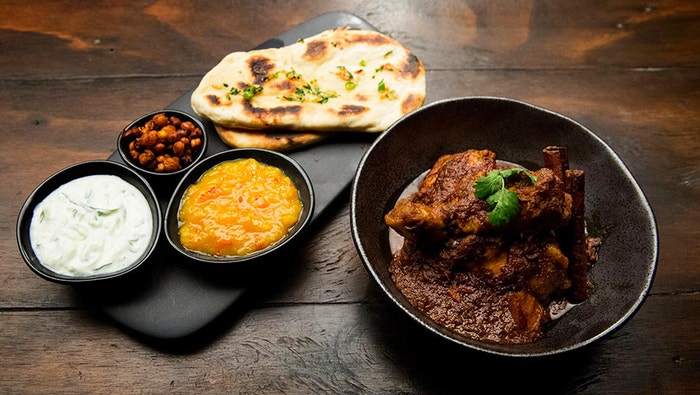 Steps
Preheat oven to 180C.
For the Chicken Curry, combine the dried spices in a bowl and stir to combine. Divide the mixture equally between 2 bowls. To one of the bowls, add the chicken and yoghurt and mix to coat then set aside to marinate.
Heat oil in a medium saucepan over medium heat. Add the onion, chillies and garlic and fry until softened and fragrant. Add the reserved half of the spice mix and fry, stirring, for 1 minute. Increase heat to high and add the chicken, salt and pepper and fry until browned on all sides, about 3 minutes.
Add tomatoes and sugar then reduce heat to medium, cover with a lid and cook for 5 minutes. Stir well then add coconut water, reduce heat to low and set aside to simmer for 30 minutes.
Meanwhile, for the Naan Bread, combine all ingredients in a bowl and knead until a soft dough forms. Continue to knead for a further 10 minutes then cover with a clean damp tea towel and set aside to rest for 20 minutes.
For the Chilli Garlic Ghee, place the ghee, chilli and garlic on a low heat until the garlic becomes golden then remove from the heat and set aside, keeping warm.
To cook the Naan Bread, place an iron skillet over medium heat. Uncover the dough and divide into 4 pieces. Stretch one of the dough portions out roughly and add to the hot pan, frying until puffed and light golden, about 3-5 minutes on each side. Repeat with the remaining breads.
For the Mango Chilli Chutney, heat oil in a small saucepan over medium heat. Add dried spices, garlic, ginger and chilli and cook until fragrant. Add mango and continue to cook, stirring, until the mango has softened and broken down, about 5 minutes. Add sugar, vinegar and salt, reduce heat to a simmer and continue to cook for 20 minutes.
For the Chickpea Chips, drain the chickpeas through a sieve set over a bowl. Set aside to drain for 10 minutes. Grease a baking tray with oil and spread the chickpeas onto the tray. Sprinkle the spices over the chickpeas and use hands to mix all of the chickpeas and coat evenly. Bake in the oven until crisp, about 35-40 minutes. Remove from the oven, sprinkle with salt and set aside to cool.
For the Raita, place cucumber into the centre of muslin cloth and twist up to squeeze out excess juice. Combine cucumber pulp and remaining ingredients together in a small bowl and season with salt and pepper, to taste.
To serve, place elements into serving bowls and ramekins. Finish the Chicken Curry with some fresh coriander leaves. Brush the Naan Bread with the Garlic Chilli Ghee and add to the platter.