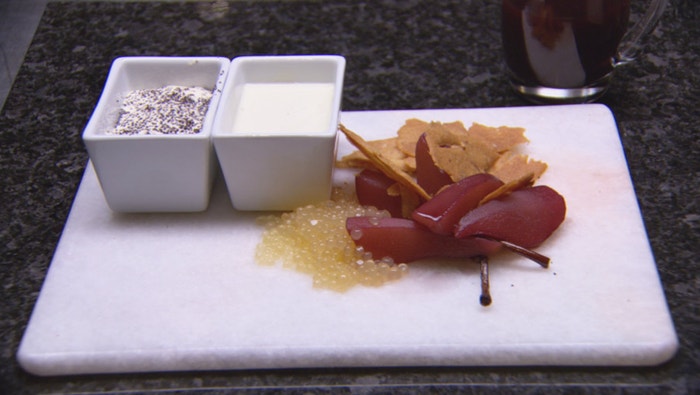 Steps
Preheat oven to 150C.
Place grape seed oil for the caviar in the fridge to chill.
To make the blue cheese ice cream, place milk and cream in a saucepan and set over medium heat until just starting to bubble. Place egg yolks and caster sugar in a bowl and whisk to combine. Slowly pour hot milk/cream mixture into the egg yolks while constantly whisking. Return mixture to the saucepan and return to medium heat. Allow to heat, stirring, until the mixture thickens and coats the back of a spoon.
Meanwhile, place chocolate and cheese in a bowl. Pour thickened mixture over the chocolate and cheese, add stabilizer and blitz with a hand blender until well combined. Strain mixture and set over an ice bath to cool.
Transfer the cooled mixture to an ice cream machine and churn according to manufacturer's instructions. Set aside in the freezer.
Repeat the process to make the goats cheese ice cream
To make the butter pecan and parmesan cookies, place the butter and caster sugar in the bowl of an electric mixer and beat until light and fluffy. Add egg whites one at a time and continue to beat until the mixture is emulsified. Add the dry ingredients and continue to beat until mixture is well combined. It should have a paste consistency. Using a pallet knife place a thin layer of the mixture onto a baking tray lined with baking paper, shaping the cookies as desired.
Place cookies in the oven to bake until golden brown, about 10 minutes. Remove from oven and set aside to cool.
To make the poached pears, place all the ingredients into a saucepan and set over medium heat to cook until pears are tender but not falling apart, about 25 minutes. Remove from heat, strain pears and set aside.
To make the Botrytis Semillon Caviar, place the Botrytis Semillon, pear juice, agar agar and lemon juice in a small saucepan and bring to a boil over medium heat. Once dissolved, remove from heat and allow to cool for 5 minutes.
Fill a syringe or dropper with the cooked liquid. Remove chilled oil from the fridge and place droplets into the cooled oil to form beads of caviar. Strain the caviar from the oil and rinse with water. Set aside.
To serve, place some poached pears, butter pecan and parmesan cookie and caviar on each serving plate. Place a spoonful of each ice cream into 2 ramekins and add to the plate. Sprinkle the goats cheese ice cream with ground poppy seeds.