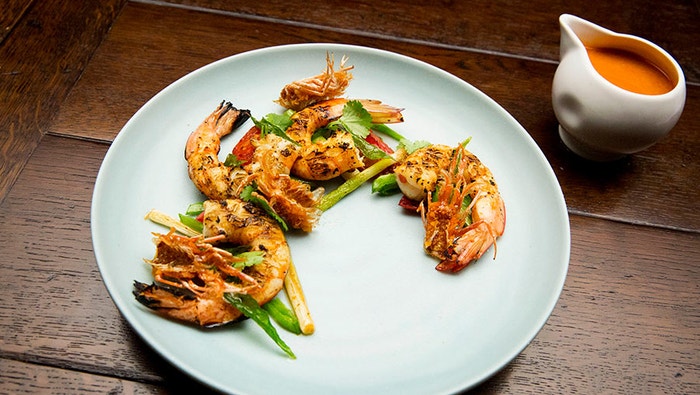 Steps
For the Malaysian Style Broth, place dried chilli and tamarind pulp in a small saucepan. Cover with 1 cup water and allow to reduce and thicken on medium heat. Set aside until needed.
In a food processor, blitz together the shallot, garlic, lemongrass stalks, chillies, coriander root and stems, toasted belacan and ginger to a paste.
Heat a medium saucepan over medium heat. Add the paste and finely chopped prawn shells and heads and cook until caramelised and fragrant.
Add the reduced tamarind mixture to the paste, along with 1 cup water, kaffir lime leaves and the curry leaves. Continue to simmer until reduced by half.
Once reduced by half, add coconut cream and bring to the boil. Remove from heat and strain through a coarse sieve into a clean saucepan, cover and keep hot until ready to serve.
For the Crispy Prawn Legs, fill a small saucepan to 1/3 with oil and bring to 180C. Once at temperature, add the prawn legs and fry until crispy, about 1 – 2 minutes. Remove from oil and set aside to drain on paper towel until ready to serve.
For the Charred Prawns, blend shallot, garlic, chillies, lime juice and oil together in a food processor or blender.
Place the prawns in a medium bowl and cover with the marinade. Toss well to coat and set aside to marinate for 5-10 minutes.
Once marinated, place a wire rack over a gas flame or barbecue. Brush the marinade solids off the prawns and then char grill until just translucent in the centre. Set aside, keeping warm, until ready to serve.
For the Spring Onion and Tomato, place a frypan over medium high heat. Once hot, add oil and spring onion stems and sauté until tender, about 2 minutes.
Add the tomatoes and allow the tomatoes to blister and caramelise. Add garlic and cook for 1 minute until fragrant. Season with salt and remove form heat. Set aside, keeping warm, until ready to serve.
To serve, add the lime juice and salt to taste to the broth and stir to combine. Place Spring Onion and Tomatoes in a crescent shape on each plate. Scatter the fresh snow pea slices amongst the tomatoes and spring onions. Stack 4 Charred Prawns on top of the tomatoes. Divide the Crispy Prawn Legs between the 4 plates, leaning the prawn legs against the prawns. Garnish with fresh coriander leaves and the crispy curry leaves. Pour the hot broth around the plates and serve.