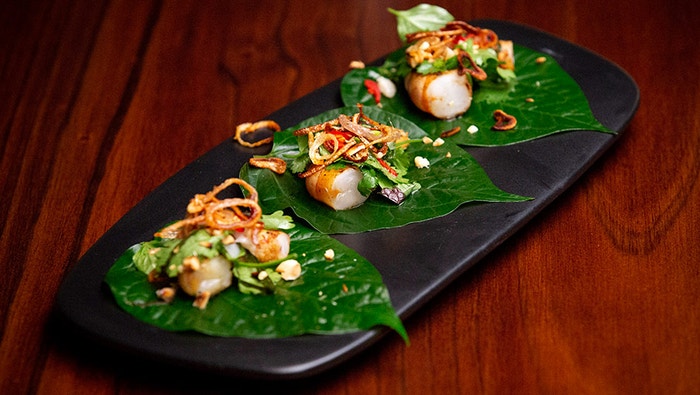 Steps
For the Dipping Sauce, mix all ingredients together in a small bowl. Divide mixture into 2 bowls, set one bowl aside for Charred Prawns and the other for Herb Salad and serving.
For the Fried Shallots, heat oil in a small saucepan to 180C. Add shallots and fry until golden brown. Remove from oil and place on paper towel until cool. Sprinkle with salt and set aside until serving.
For the Herb Salad, place herbs and lychees into a medium bowl and set aside until serving.
For the Charred Prawns, place a griddle pan on medium heat. Place prawns into one bowl of dipping sauce and allow to marinate for 4 minutes.
Remove prawns from dipping sauce, discarding sauce, and cook on hot oiled griddle pan until cooked through, about 2-3 minutes on each side. Remove from heat.
To serve, arrange betel leaves on a large platter. Place a Charred Prawn on each leaf. Dress Herb Salad lightly with 2-3 tablespoons of dipping sauce and place a little on top of each prawn. Top with chopped roasted peanuts and sliced red chilli, drizzle with Dipping Sauce and top with Fried Shallots.