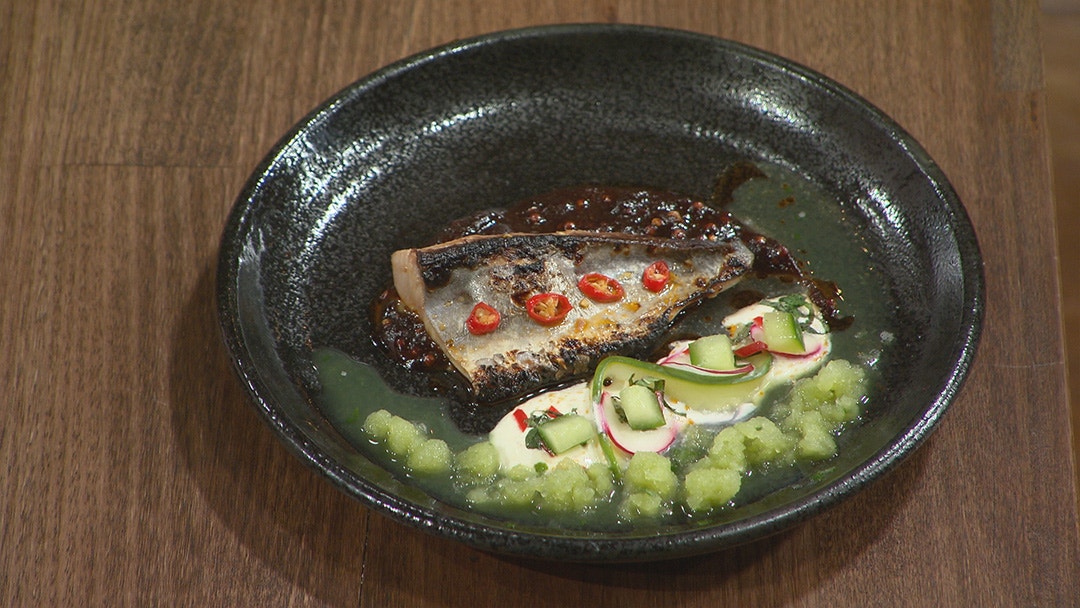 Ingredients
Cucumber and Ponzu Granita
Steps
For the Cucumber and Ponzu Granita, pass cucumber and ¾ of the mint leaves through a cold press juicer. Add ponzu, sugar, glucose syrup and lime juice. Pour into a small shallow tray. Chop the remaining mint leaves and sprinkle over the top. Once frozen, separate with fork to make icy flakes and return to the freezer until required.
For the Frozen Cucumber, finely chop cucumber and place onto a lined baking tray. Place into the freezer until frozen.
For the Pickled Cucumber, make the pickling liquid by warming the mirin, sake and sugar. Remove from the heat and add the cucumber, radish and mint. Set aside to cool then drain well to serve.
For the Charred Bonito, place bonito into a shallow dish with the chilli oil, chillies and season with salt. Set aside in the fridge for 10-15 minutes.
Press bonito onto flat skewers. Roast skin side down over open flame until skin is charred. Turn and roast flesh side for a minute or two.
Place onto a baking tray and spoon over a little chilli oil for at least 10 minutes before serving.
For the Tamarind Jam, place the tamarind into a small saucepan and cover with water. Place onto a medium heat. Add the prune juice and bring to a simmer. Add the sugar and chillies and stir. Allow to simmer until liquid has reduced and has thickened to a jam consistency. Add the amchur and remove from the heat and pass through a sieve.
Meanwhile, place grapeseed oil into a frypan over low heat. Add cumin seeds and ginger and fry until lightly coloured. Add the jam and simmer briefly. Season with salt and more chilli if desired, to taste. Remove from the heat and set aside.
For the Lemon Yoghurt, place the yoghurt in a muslin lined colander and set over a bowl to strain. Squeeze very gently to remove excess moisture.
Transfer yoghurt to a small bowl. Add lemon and stir well. Transfer to a small serving bowl and dress with chilli oil.
To serve, place Tamarind Chilli Jam on each serving plate. Add ½ tablespoon of Lemon yoghurt and lightly spread. Arrange Pickled Cucumber, radish and Frozen Cucumber over Lemon Yoghurt and sprinkle with mint in between. Add the bonito and granita and serve immediately.