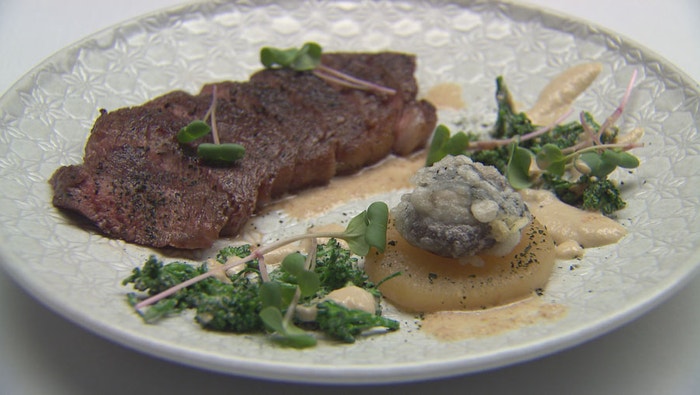 Steps
Place charcoal on a rack over a medium burner and let burn for 30 minutes or until glowing red. Transfer to a hibachi (Japanese grill) and let it burn until it has grey ash on the outside.
For the Charcoal Grilled Wagyu, combine soy sauce, mirin & sesame oil and brush over wagyu to marinate. Set aside in the fridge for one hour. Grill the beef over the hot charcoal for about 2-3 minutes on either side or until medium rare then place on a rack to rest. Be careful to avoid too many flare ups as this can affect the taste of the beef.
For the oyster tempura, lightly whisk 50g tempura flour and salt with 80ml ice cold water to the consistency of thickened cream. Set aside in fridge. Drizzle the shiitake mushrooms with a little oil and grill over the coals until just cooked then set aside to cool. Tuck an oyster into each mushroom and then wrap with a strip of nori, sealing with a dab of tempura batter to seal. Place on to a paper lined tray and set aside in fridge.
Heat oil in a high sided saucepan to 175°C (you can check by dipping a wooden chopstick in it, if little bubbles sizzle from the chopstick it is ready).
Dust the oyster fritters in remaining 30g tempura flour then coat in the tempura batter and gently lower into the oil. Cook for about 1 and ½ minutes or until golden. Use a slotted spoon to remove from the oil onto paper towel to drain. Season with salt and set aside, keeping warm.
To make the Wakame Salt, combine ingredients in a mortar and pestle and grind to a powder. Set aside.
To make the Ponzu, mix all ingredients together and place in a plastic squeeze bottle and set aside.
For the sesame dressing, place all of the ingredients, except broccolini, into a food processor along with 4 tablespoons water and blitz until smooth and thick then season. Reserve 2 tablespoons of sesame dressing, thin down with 2 tablespoons water and set aside in a serving jug.
Bring a saucepan of salted water to the boil and blanch broccolini then refresh briefly in iced water. Drain well.
To serve, toss broccolini in the remaining sesame dressing. Reheat the beef over the grill then slice diagonally into about 6-7 pieces. Place the beef on the front of the serving plates, add an oyster fritter then place a few pieces of Sesame Broccolini around the plate. Drizzle the thinned dressing around the plate. Drizzle a small amount of the Ponzu onto the beef and sprinkle with some Wakame Salt.