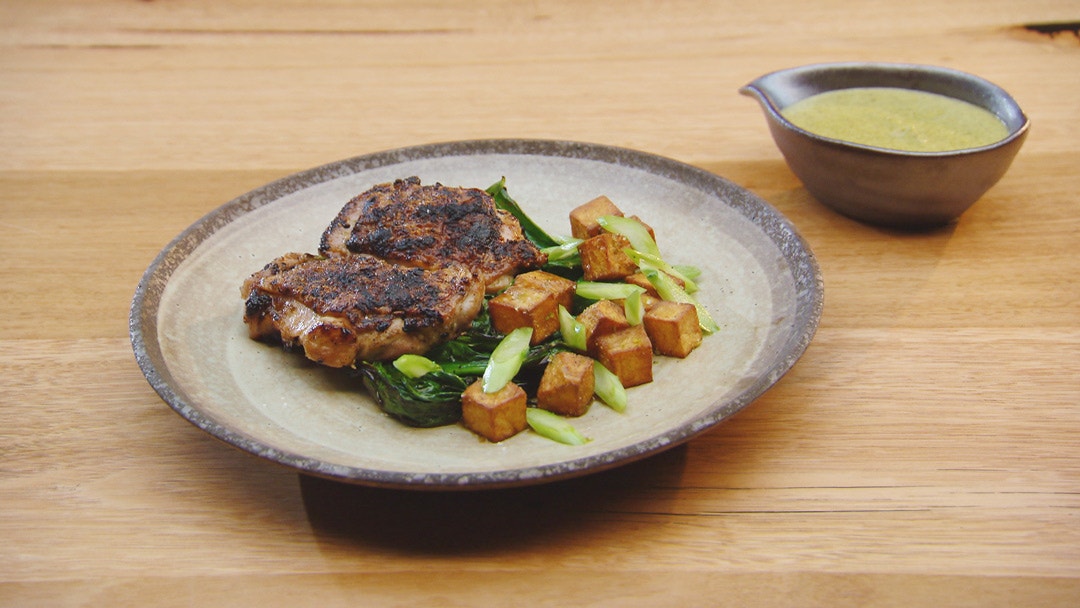 Steps
Preheat oven to 100C. Prepare a Hibachi, if using.
For the Charcoal Chicken, mix ingredients in a bowl, massaging the chicken until well coated. Set aside in the fridge to marinate for at least 30 minutes.
Brush off most of the marinade from the chicken thighs and then spray with oil. Place onto the grill, skin side down, and cook for 4-5 minutes on each side, turning a few times, until the juices run clear when thickest part of the chicken is pierced. Alternatively, cook on a BBQ or in a grill pan over medium high heat.
For the Pickled Gai Lan Stems, place vinegar, fish sauce, salt and sugar into a bowl and mix until the salt and sugar dissolves.
Slice the gai lan stems at an angle into 1mm thin slices. Add to pickling liquid and allow to pickle for 15-20 minutes. Drain well to serve.
For the Coriander Sauce, place the chillies onto the hibachi, BBQ or grill pan and cook until blackened, approximately 2-3 minutes per side. Remove from the grill and place in a covered bowl for 5 minutes. Peel and discard the skin and chop the flesh.
Heat the grapeseed oil in a saucepan on medium-high heat. Once hot, add the shallots, garlic and ginger. Sauté until the shallots begin to caramelise. Add the chopped chillies, coriander, fish sauce, salt, pepper, sugar and lime juice. Stir and cook until the coriander wilts completely but retains its green colour. Remove from heat and allow to cool for 5 minutes. Once cooled, cover with cling film and store in the refrigerator until needed.
Transfer to a food processor or blender and process until smooth. Pass the sauce through a fine sieve and transfer to a serving bowl.
For the Crispy Potatoes, place kaffir lime leaves onto a tray and cook in the oven until completely dry and crisp, about 15 minutes.
Heat the grapeseed oil in a deep saucepan or deep fryer to 160C. Rinse and dry potatoes thoroughly. Cook in the hot oil until golden brown and crispy, about 15 minutes, stirring occasionally. Remove potatoes from the saucepan and dry on paper towel.
Remove the kaffir lime leaves from the oven and process to a fine powder in a spice grinder. Mix with the salt and sprinkle over the crispy potatoes while still hot. Set aside.
For the Grilled Gai Lan leaves, place soy sauce, sesame oil and sugar into a bowl and stir until the sugar dissolves.
Place the gai lan leaves over a medium heat on the hibachi, BBQ or grill pan. Grill for approximately 1 minute per side or until lightly charred. Place the hot leaves into the soy sauce mixture and toss to coat well. Drain well to serve.
To serve, place one chicken thigh on each plate surrounded by the gai lan leaves and crispy potato cubes. Place the pickled gai lan stem around the potatoes. Serve with sauce on the side.