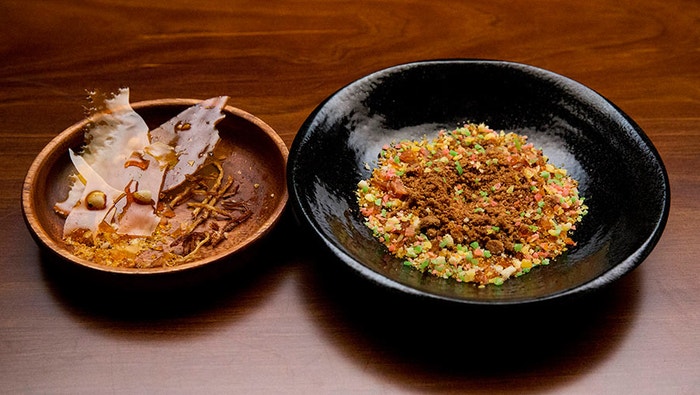 Steps
Pre-chill ice cream machine and preheat oven to 180C.
For the Chaffie Ice-Cream, place tea powder, cinnamon, cardamom and cloves into a small bowl. Add 60ml boiling water and set aside to brew for 3 minutes. Strain, discarding solids, and set aside.
Mix coffee into 80ml boiling water and set aside.
Place cream and milk into a saucepan and set over medium heat. Bring to a simmer and remove from heat.
Meanwhile, place the egg, egg yolks and sugar into a medium bowl and whisk until pale and fluffy. Add a little of the hot cream mixture and whisk to combine. Add the remaining cream mixture and whisk until completely combined.
Return the mixture to a saucepan and set over low heat. Add reserved coffee liquid and brewed tea and whisk until thickened. Remove from heat, transfer to a bowl and set over an ice bath.
Whisk, over the ice bath, until cool. Transfer to the chilled ice cream machine and churn according to manufacturer's instructions. Set aside, in freezer, until serving.
For the Coconut Shortbread Crumble, spread the desiccated coconut over a lined baking tray and toast in the oven until golden, about 5 minutes.
Remove from oven and transfer to a bowl. Add flour, sugar, butter, ajwain seeds, cumin seeds and cardamom and rub with fingertips until butter melts and mixture comes together to form a dough.
Place the dough between two sheets of baking paper and roll to a thickness of 2mm. Remove the top sheet and transfer dough, on the baking paper, to a tray. Place in oven to bake until golden brown, about 15 minutes. Remove from the oven, allow to cool, crush to a crumble and set aside until serving.
For the Spiced Praline, place all ingredients, except sugar, in a motor and pestle and roughly grind. Transfer to a paper lined tray.
Place sugar into a small frypan and place on medium heat. Cook until sugar melts and begins to colour. Swirl the pan gently and continue to cook until amber in colour.
Remove from heat and immediately pour over the ground mix. Lift the tray to spread the caramel evenly and thinly and set aside to cool.
Once cool, break into shards. Set aside 12 shards for serving. Place remaining shards into a mortar and pestle and grind to a coarse crumb. Set aside until serving.
To serve, place the Coconut Shortbread Crumble into the centre of each serving plate. Using the back of a spoon, smooth top of crumble and make a slight well in the centre. Add the crushed Spiced Praline and sprinkle with popping candy. Place a spoonful of the Chaffie Ice-Cream onto the crumb and add two shards of Spiced Praline.