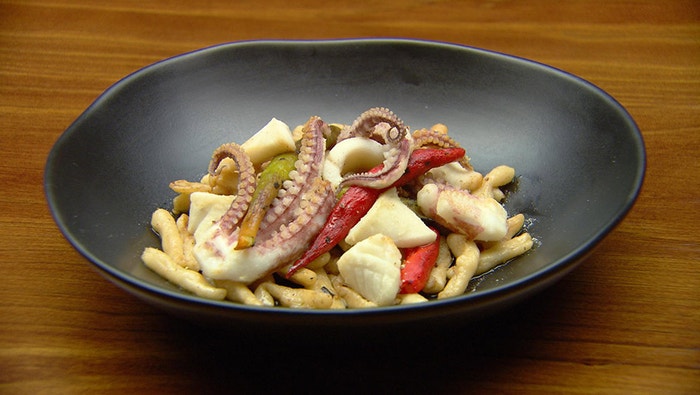 Steps
For the Cavatelli Pasta, place flour on a clean work surface and make a well in the centre. Add egg, salt and 200ml warm water and combine using a fork. Once combined, knead to make a soft, smooth dough. Wrap in plastic wrap and place in fridge to rest at least 20 minutes.
Divide rested dough into 4 pieces and using a rolling pin roll each piece to about 2 mm thick. Cut into strips 3cm wide and then cut each strip into 1 cm pieces until all the strips are cut. To shape the cavatelli, place index and middle finger on each piece and lightly press down while dragging piece towards you so the edges curl up. Continue shaping the remaining pasta. Set aside, covered with a damp cloth, until serving.
For the Chargrilled Chilli, place a wire rack over gas hob. Place chillies on the wire rack over the flame, and cook, turning continuously, until skin has blackened all over. Remove chillies from flame, wrap in foil and set aside to cool. When cool enough to handle unwrap and remove blackened skin. Slice chillies and set aside until serving.
For the Chilli and Anchovy Oil, place all ingredients in a medium frypan and place over medium heat. Sauté, until anchovies have broken down, about 5 minutes. Remove from heat and set aside, until serving.
For the Salt and Pepper Squid, place flour, salt and pepper in a small bowl and mix until well combined. Add squid and toss until all the squid is well coated. Shake off any excess and place coated squid on a cooling rack until frying.
Add grapeseed oil to a frypan and heat to 180C. Fry squid, in batches, until just golden, about 1 minute. Remove from oil and set aside to drain on paper towel until serving.
To serve, cook pasta in boiling water until just tender, about 2 minutes. Drain well and return to the saucepan. Add the Chilli and Anchovy Oil and stir until cavatelli are well coated. Divide dressed Cavatelli between serving bowls and top with Chagrilled Chilli and Salt and Pepper Squid.