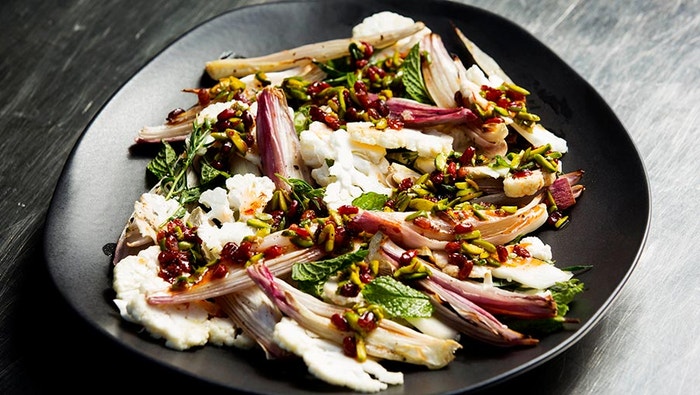 Steps
Preheat the oven to 180C.
Line a baking tray with baking paper. Spread the shallots onto the lined baking tray and drizzle with 1 tablespoon of the olive oil, 1 teaspoon of salt and a good grind of black pepper. Place into the oven to roast until soft and beginning to colour, about 15-20 minutes. Remove from the oven and set aside.
Slice the cauliflower florets using a mandolin, very thinly, into 3-4 mm thick slices. Place into a large bowl with 1 tablespoon of the olive oil, torn mint leaves, torn tarragon leaves and ½ teaspoon of salt and mix well until fully incorporated.
For the Salsa Dressing, place the lemon juice, honey, lime powder, harissa, ¼ teaspoon of salt and a small grind of black pepper in a medium bowl. Mix well to combine and then add the barberries and pistachios. Set aside until ready to serve.
To serve, spread the cauliflower onto a large serving platter. Arrange the shallots so that most of them are on top but some are underneath the cauliflower. Top with tarragon and mint leaves. Spoon the Salsa Dressing over the cauliflower and serve.