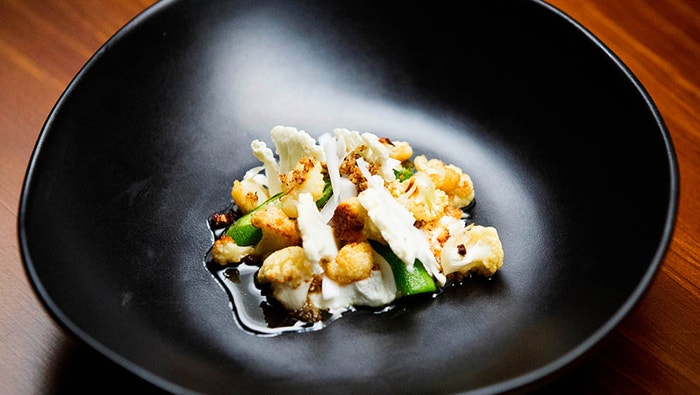 Steps
Preheat oven to 180C.
To prepare the Cauliflower Three Ways, cut half of the cauliflower into small pieces and place on a paper lined baking tray along with lemon myrtle leaves. Drizzle with 1 tablespoon grapeseed oil, season and roast for 20 minutes until golden. Set aside.
Blitz half of remaining cauliflower in a food processor to a fine crumb. Fry with 2 teaspoons grapeseed oil in a medium frypan until golden. Season and set aside to cool.
Cut remaining cauliflower into thin slices and place in a small bowl. Place vinegar, ½ cup water, salt and pepper into a small saucepan and bring to the boil. Allow to cool then pour over sliced cauliflower and set aside.
To make the Maple Foam, place ingredients into the canister of a stick blender and blitz until combined. Transfer mixture to a syphon gun and charge twice. Set aside in fridge.
For the Fried Okra, trim okra and diagonally slice into 5mm wide strips. Blanch in boiling water for 20 seconds then refresh in an ice bath. Dry okra slices with kitchen paper. Heat 1 tablespoon grapeseed oil in small frypan and fry okra for 30 seconds, without browning. Drain on kitchen paper and season.
To serve, drain pickled cauliflower. Arrange pickled, roasted and fried Cauliflower and Fried Okra on serving plates. Scatter with goat's cheese and shredded coconut. Shake syphon gun vigorously then dispense some Maple Foam onto plates. Serve immediately.