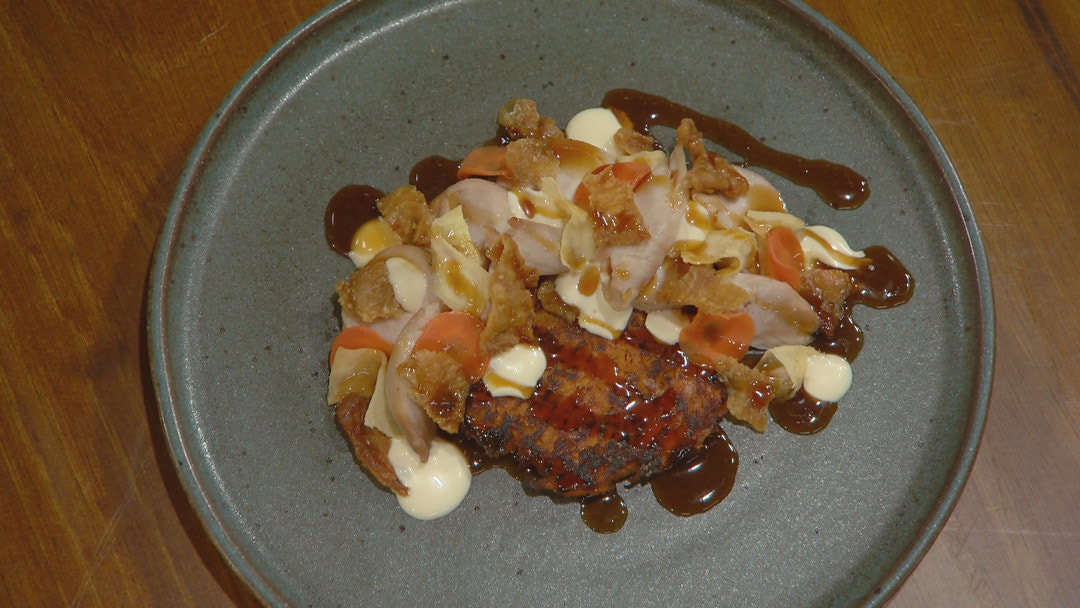 Ingredients
Okonomiyaki Sauce and Braised Chicken Leg
Pickled Ginger and Carrot
Carrot and Ginger Okonomiyaki
Steps
Preheat oven to 190C. Prepare a sous vide machine to 64C.
For the Crispy Chicken Skin, line a baking tray with paper. Stretch chicken skin out onto a chopping board and use a knife to scrape any meat or excess fat from the skin. Season with salt, then transfer to the lined baking tray. Stretch skin as much as possible, then cover with the second piece of baking paper and a second tray to keep the skin flat.
Roast in the oven for 35 minutes or until golden brown and very crisp. Remove from the oven and set aside.
For the Okonomiyaki Sauce and Braised Chicken Leg, place ingredients into a pressure cooker with 1 litre water. Seal and cook for 15 minutes. Alternatively, simmer gently ingredients in a large saucepan for 45 minutes or until broth is well flavoured.
Once cooked, remove chicken legs, remove the meat and set aside. Strain out remaining solids from broth and discard. Transfer the liquid to a small saucepan and simmer over high heat until reduced to a thin syrup consistency. Remove from the heat and set aside.
For the Poached Chicken, cut each breast in half lengthways and season with salt and pepper. Use cling film to roll each piece of chicken into a tight cylinder. Place into a vacuum bag and vacuum seal. Place bag into sous vide machine and cook for one hour or until internal temperature of chicken reaches 64C. Remove bag from water. Unwrap each piece of chicken and set aside. Slice before serving.
For the Pickled Carrot and Ginger, place vinegar, water, sugar and peppercorns in a small saucepan. Bring to the boil. Place carrot in one small container and ginger in another. Divide pickling liquid between the two containers. Set aside and allow to pickle for at least one hour.
For the Ginger Emulsion, place egg yolk, vinegar and ginger together into the canister of a stick blender. Season with salt and pepper. Add oil, a teaspoon at a time, and blend until combined. Set aside.
For the Okonomiyaki, whisk egg yolk, soy sauce, ginger, flour, water, sugar and vinegar together in a medium bowl. Stir in carrot.
Heat a large frying pan over medium heat. Place three 10cm ring moulds into the pan. Add oil and butter into the rings and allow to heat and foam. Divide half of the carrot mixture between the moulds and level the surface. Fry until cooked through and golden brown, about 2-3 minutes on each side. Wipe out the pan and repeat with the remaining mixture.
To serve, place an okonomiyaki on each plate. Top with chicken leg meat, chicken breast slices, pickled carrot and ginger and crispy skin. Drizzle each plate with some ginger emulsion and okonomiyaki sauce.