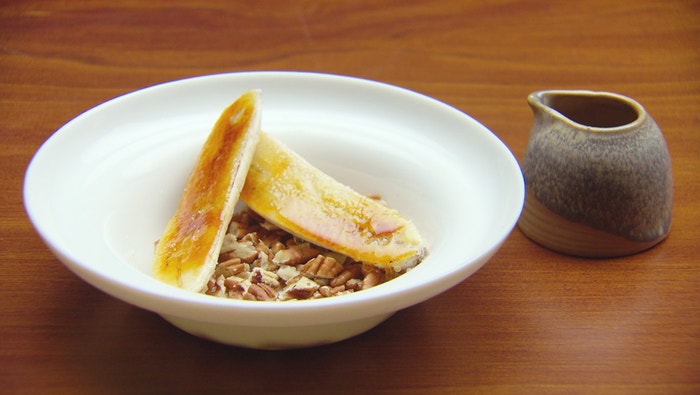 Steps
Prechill an ice cream machine. Prepare an ice bath in a medium bowl.
For the Brown Sugar Ice Cream, place the milk, cream and brown sugar into a medium saucepan and place over a medium heat. Cook until sugar has dissolved and remove from the heat.
Meanwhile, place egg yolks into a bowl of an electric mixer fitted with a whisk attachment. Whisk until light and fluffy. With the motor running, slowly pour the hot milk mixture into the egg mixture and whisk until combined.
Return the mixture to the saucepan and cook over on low heat, stirring continuously with a spatula until the mixture reaches 84C and thickens. Remove from the heat. Pour through a fine sieve into a bowl and place over the ice bath to cool.
Once the mixture is cold, pour into the ice cream machine and churn according to manufacturer's instructions. Place ice cream into the freezer until required.
For the Miso Caramel, place the sugar and 1/2 cup water into a medium saucepan and stir to dissolve sugar. Brush down the sides of the pan with a wet pastry brush. Cook the syrup over medium heat until dark amber in colour. Remove from the heat.
Meanwhile, place the cream and miso in a small saucepan over medium heat. Whisk until miso is incorporated and allow to heat until miso dissolves, about 2 minutes.
Slowly add the miso cream to the caramel and whisk to combine. Whisk in butter then transfer to a serving jug. Keep warm.
For the Banana Brûlee, place the banana halves onto a baking tray. Sprinkle evenly with the caster sugar and using a blowtorch, caramelise the sugar until golden brown.
To serve, place the pecan nuts into the base of each serving bowl. Top with the Banana Brûlée, a scoop of Brown Sugar Ice Cream and serve with the jug of Miso Caramel on the side.