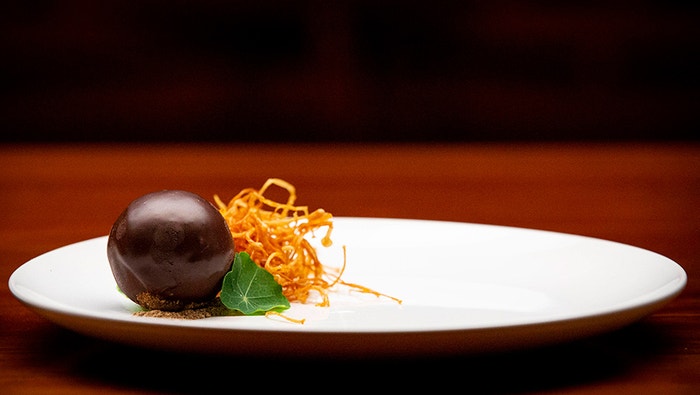 Steps
For the Caramel Mousse, place caster sugar in a small frypan and melt over medium heat until dark amber in colour.
Meanwhile bring 65g cream, milk and dried porcini to a simmer. Add to the caramelised sugar in a steady stream, swirling to combine. Remove from heat, add gelatine and stir until melted. Strain through a fine sieve into a bowl and cool over an ice bath.
Place remaining 190g cream into the bowl of an electric mixer fitted with a whisk attachment and whisk until soft peaks form. Fold cream into cooled cream mixture, a third at a time, until just combined. Pour mixture into 24 x 4cm diameter silicon half sphere moulds and level surface. Place on a tray and set aside in freezer until firm.
For the Porcini Centre, place the dried porcini and 2½ cups water in a saucepan and bring to a gentle boil over medium heat. Remove from heat and transfer porcini to the canister of a stick blender, reserving poaching liquid.
Meanwhile, place caster sugar and ¼ cup water into a small frypan and heat until the sugar has dissolved and forms a thin syrup. Add 2 ½ tablespoons of sugar syrup to the rehydrated porcini and using a stick blender, process until a smooth paste forms. Add a little porcini poaching liquid, if required, to thin out the mixture to resemble a thickened cream. Season with salt, then transfer to a piping bag.
Remove the set mousse from the freezer. Scoop out a teaspoon of the mousse from the centre of each half sphere and fill by piping in Porcini Centre. Press two half spheres together to make a sphere and place in freezer until very firm.
For the Cocoa Butter Coating, place chocolate into a medium sized bowl and set aside. In a small frypan place the cocoa butter and melt until dissolved, then pour over chocolate. Set aside for 1-2 minutes before blitzing using a stick blender until smooth. Set aside to cool slightly.
Once the mousse sphere is hard, insert toothpick into sphere, submerge into the cocoa butter coating and shake gently to remove excess chocolate. Allow the coating to solidify before removing sphere from the toothpick and placing on a tray. Repeat for the remaining mousse spheres. Set aside, in fridge, until serving.
For the Fried Enoki, heat a small saucepan with oil to 180C. Fry enoki in the hot oil, in batches, until golden and crisp. Remove from the oil, drain on paper towel and sprinkle with salt. Set aside until serving.
For the Dried Porcini Powder, toast the dried porcini in a small frypan over medium heat until toasted and fragrant. Remove from heat, transfer to a spice grinder and process to a fine powder. Transfer the porcini powder to a small bowl. Add cocoa powder and icing sugar and mix until well combined. Set aside until serving.
To serve, place a teaspoon of Dried Porcini Powder on each serving plate. Position the Caramel Mousse sphere on top and add some Fried Enoki. Garnish with nastursium leaves and flower petals.