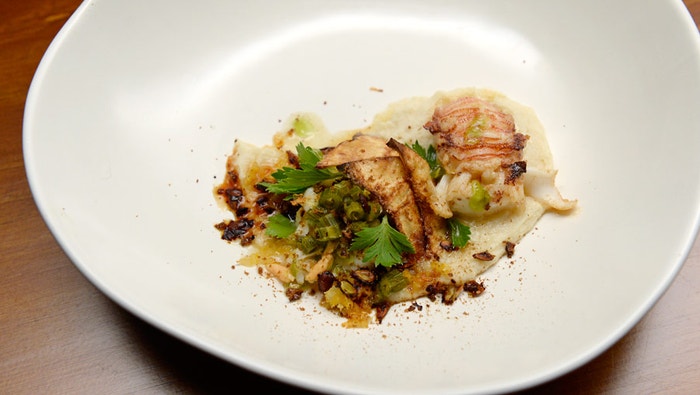 Steps
Preheat oven to 180C. Heat oil in deep fryer to 180C.
For the Celeriac Chips, peel and cut the celeriac in half. Use a mandolin to slice celeriac to 2mm slices and trim to create uniform triangular shaped chips.
Place the chips into a small bowl, add grape seed oil, salt and pepper to taste then place onto a baking tray lined with baking paper and bake for 20 minutes, until evenly browned and crisp. Set aside to cool on the tray until needed.
For the Pickled Salad, slice celeriac stems into 1cm pieces.
Prepare hot pickling solution by placing vinegar, water, sugar and seasoning into a medium pan over high heat and bring to the boil. Put stem pieces into liquid and remove from heat. Allow to pickle for 10 minutes, strain and set aside in a small bowl. When cool, add celeriac leaves and set aside.
For the Celeriac Purée, peel the bulb and cut the celeriac into a medium dice. Place into a small saucepan over high heat and bring to the boil. Once boiling, reduce to a simmer and cook until the celeriac is soft. Strain cooked celeriac flesh and reserve cooking liquid.
Place the cooked celeriac into a stick blender canister or jug and using a stick blender, blitz to create a purée. Season with salt and pepper, add cream and butter blitz again to combine. Begin adding the milk, a little at a time, and blitz between each addition until a very smooth purée or desired consistency. Depending on the size of the celeriac, you may not need all the milk, or you may need to add some of the reserved cooking liquid as well to achieve the desired consistency. Pass through a fine sieve and set aside, keeping warm until needed.
For the Deep Fried Morels, remove soaked morels from water and pat dry. Drop the mushrooms into the preheated deep fryer and fry until evenly brown and crisp, approximately 1 minute. Drain well on kitchen paper and set aside until needed.
For the Dried and Fresh Horned Melon, scoop the seeds and flesh from the horned melon. Evenly spread half the seeds and flesh on to a baking tray lined with baking paper and place in the oven to dehydrate for 10-15 minutes or until evenly toasted. Remove from heat and allow to cool. Season with salt and pepper and set aside until ready to serve.
Gently press the remaining flesh and seeds through a fine sieve to remove the majority of liquid, keeping the seeds and flesh reasonably intact. Set the melon seeds and flesh aside until needed for serving.
For the Vinaigrette, combine sugar, vinegar, olive oil and salt and pepper to taste in a small bowl. Whisk to combine and set aside until needed.
To prepare the Buddha's Hand Zest. Spread 1 tablespoon onto a baking tray lined with baking paper and dehydrate in oven for 4-5 minutes. Reserve remaining 1 tablespoon of zest to garnish.
For the Butter Bug, bring a medium saucepan of salted water to the boil. Blanch the Moreton Bay bug for 30 seconds then refresh in a bowl of iced water.
Carefully, split the bug tail down the middle with scissors, twist the head gently and split head with a knife. Gently remove meat in one piece, leaving flesh from head attached and set aside.
Place a small frypan over a low heat. Add butter and swirl to melt. Place the bug meat ino the pan and spoon over butter until the bug meat it loses it transparency and is just cooked through, about 2 minutes. Remove from pan and set aside until needed.
To serve, dress the Fresh Horned Melon seeds and flesh with a little of the Vinaigrette.
While still warm, trim meat from head end from bug tail to neaten and toss trimmings through Pickled Salad. Dress the Pickled Salad with the vinaigrette.
Place 1 - 2 spoons of Celeriac Purée in the centre of each serving plate and smear slightly.
Place a small pile of Pickled Salad over the purée. Place 3 – 4 Celeriac Chips beside the salad. Sprinkle dehydrated Buddha's Hand Zest and Dried Horned Melon flesh and seeds over the salad. Use a microplane to grate some Deep Fried Morel over the top.
Add one bug tail to the side of the salad on each plate. Spoon a small amount of salad dressing over the bug tail to finish.