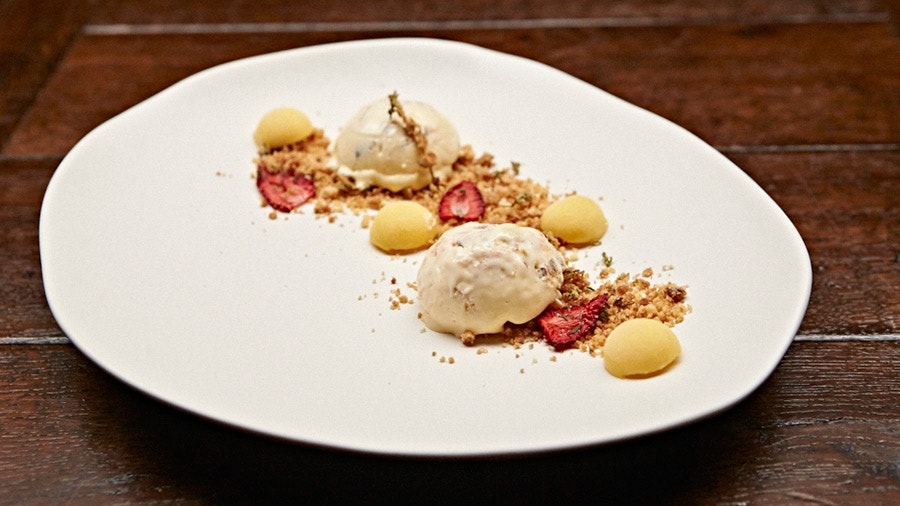 Steps
Preheat oven to 180C.
For the Apricot Parfait, heat a griddle pan over high heat. Place apricots onto pan, cut side down, until charred. Remove from heat and set aside to cool. Once cooled, chop finely and set aside.
Meanwhile, place a medium saucepan over medium heat and bring to a simmer. Place eggs, yolk and sugar into a heatproof bowl and sit over the saucepan of simmering water. Whisk until thick and pale then remove from heat and set aside to cool slightly.
Place cream into a stand mixer fitted with a whisk attachment and whip to stiff peaks.
Gently fold the whipped cream into the egg mixture until combined. Add the chopped charred apricots and gently fold through. Spoon mixture into eight 6cm dome moulds and level off with a spatula.
For the Passionfruit Curd, combine sugar eggs and passionfruit juice in a small saucepan over low heat, whisk continuously until thickened. Whisk in butter, 1 cube at a time until thickened. Pass through a sieve and spoon into sixteen 2cm dome moulds. Level off with a spatula and place into the freezer to freeze.
For the Strawberry Coulis, place strawberries, sugar, and 1 tablespoon of water into a small saucepan over low heat. Cook until just softened then add thyme. Transfer to a food processor and blitz until smooth. Pass through a fine sieve and set aside in a serving jug.
For the Crumb, place all ingredients into a bowl and rub together with fingertips until mixture resembles fine breadcrumbs. Spread crumb onto a baking tray lined with baking paper and bake until golden, about 10-12 minutes. Remove from oven and set aside to cool.
For the Roasted Strawberries, lay strawberries onto a paper lined baking tray. Sprinkle with thyme leaves. Bake until just softened, about 12-15 minutes. Remove from the oven and set aside.
For the Thyme Sprigs, combine egg white and sugar in a small bowl and whisk together until combined. Dip the thyme sprigs into the mixture then place onto a baking tray lined with baking paper. Bake until golden, about 7-8 minutes. Remove from oven and set aside.
To serve, sprinkle Crumb across serving plates. Place 2 Apricot Parfaits and 4 domes of Passionfruit Curd onto plates. Add some Roasted Strawberries and sprig of Roasted Thyme. Finish with some thyme leaves. Serve Strawberry Coulis on the side.