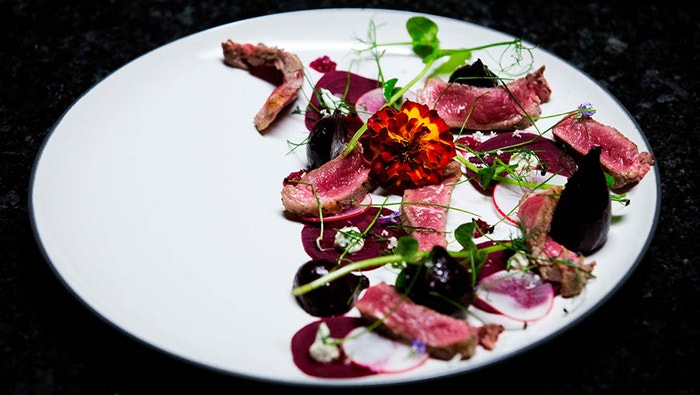 Steps
Preheat oven to 180C.
To prepare the beetroots for the Pickled Beetroot and Beetroot Puree, place beetroots in a medium saucepan, cover with water and bring to the boil. Once boiling, cover with lid, reduce heat and simmer for 15 minutes. Remove 2 of the beetroots and set aside for the pickle. Continue to cook remaining beetroot for a further 20 minutes, remove from saucepan and set aside in a bowl for the Beetroot Puree.
For the Buffalo Rump Steak, season steaks with salt and pepper and coat with 1-2 tablespoons of the olive oil. Set aside on a plate in fridge to marinate for 30 minutes.
Meanwhile, to make the Roasted Beetroots, sprinkle salt over baby beetroots and wrap individually. Place onto baking tray and into the oven until tender, about 30 minutes.
Remove from oven and unwrap beetroots. Place beetroots into cold water and use hands to remove skin gently, careful not to destroy the shape of the beetroots. Slice each beetroot in half and place into a bowl with pea shoots and olive oil, gently toss to coat and set aside.
For the Pickled Beetroot, place vinegar, sugar, bay leaf, peppercorns and 250ml of water in a small saucepan over medium heat and heat until sugar dissolves. Meanwhile, place reserved boiled beetroots into cold water and remove skin using a small sharp knife. Use a mandolin to slice beetroots thinly and place into a bowl. Pour pickle liquid over beetroot slices, cover bowl with cling film and set aside.
For the Beetroot Puree, place reserved boiled beetroots into cold water and remove skin using a sharp knife. Cut beetroots into small pieces and blend until smooth. Meanwhile, place sugar and vinegar into a small saucepan and reduce until sugar is dissolved and mixture slightly thickens. Pour vinegar reduction into blender or small food processor with beetroots, add crème fraiche and blend until smooth. Gradually add olive oil, blending in between each addition to incorporate. Season to taste, transfer into piping bag and set aside in fridge.
For the Horseradish Cream, place all ingredients in a bowl and stir to combine. Transfer into piping bag and set aside in fridge.
For the Radishes, slice radishes thinly using a mandolin and place into a bowl of iced water and set aside.
To cook the Buffalo Rump, place 1 tablespoon of the olive oil with rosemary and garlic in a frypan over medium heat. Use a wooden spoon to move the garlic and rosemary around the oil to infuse. Fry rump for 45 seconds on each side, or longer to your liking. Remove from pan and rest for 5 minutes then slice into ½ cm thick pieces.
To serve, arrange pickled beetroots, roasted beetroot pieces, radishes and rump on one half of the plate. Pipe beetroot puree and horseradish cream throughout the slices. Scatter, pea shoots, micro chives and rosemary flowers over the top. Place edible flower on top and finish with some grated fresh horseradish.