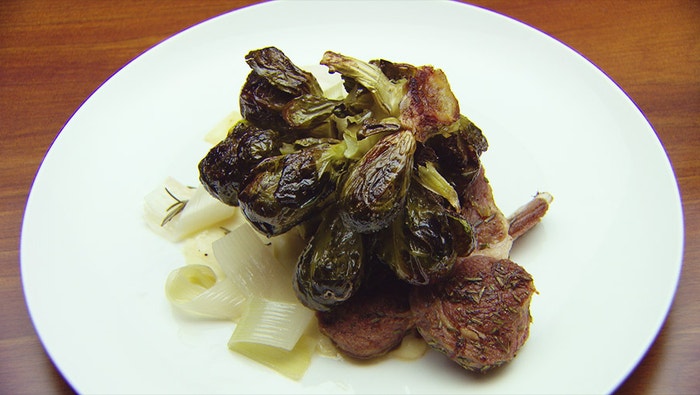 Steps
Preheat oven to 180C.
For the Roasted Brussels Sprouts, place the stalk of Brussels sprouts into a lined baking dish. Drizzle with oil and season with salt and pepper. Roast in the oven until charred on the outside and soft on the inside, about 30 minutes. Remove from the oven and set aside.
For the Parsnip Puree, place the parsnip and milk into a small saucepan. Cover with a lid and place over low heat. Bring to a simmer and cook until soft, about 20-25 minutes.
Transfer to a blender with the butter and process until smooth. Add the yoghurt and blend until incorporated. Pass the puree through a sieve and season with salt and pepper, to taste. Set aside.
For the Confit Leek, place all ingredients in a small roasting dish and cook in the oven until leeks are soft and tender, about 20 minutes. Remove from the oven and set aside. Carefully remove the leeks from the oil and place onto paper towel when ready to serve.
For the Lamb Cutlets, place lamb, oil, rosemary and lemon zest into a medium bowl and toss together until cutlets are well coated. Set aside to marinate for 10 minutes.
Heat a large frypan over medium high heat.
Add the lemon halves to the pan, cut side down, and cook until charred. Juice the lemons and set aside.
Return the pan to the heat. Season the lamb then cook in the hot pan until medium rare, approximately 2-3 minutes each side or until cooked to your liking. Remove from the pan and set aside to rest.
For the Spilt Sauce, add the juice from the charred lemons to deglaze the pan. Allow to simmer until the lemon juice has almost evaporated. Add 100ml water and allow to simmer until the liquid has reduced by half. Remove from the heat and add the butter, a piece at a time, stirring continuously. Add the cream and salt and stir through.
To serve, spoon the puree into the centre of each plate. Top with the Confit Leek and add the cutlets. Rest the Roasted Brussels Sprout stalk on top and drizzle with some sauce to finish.