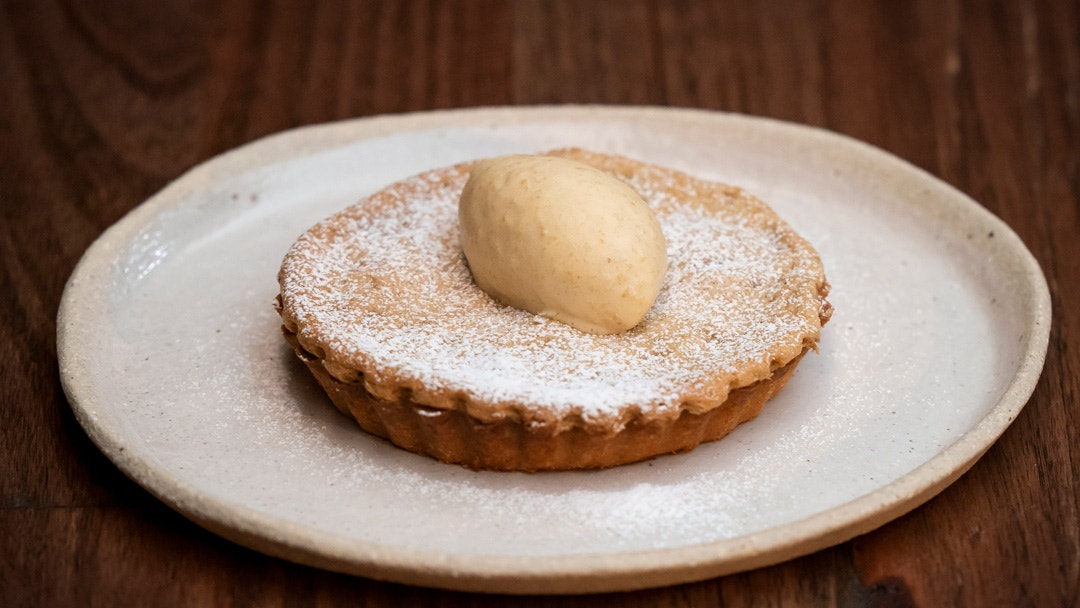 Ingredients
Caramelised Golden Raisin Ice Cream
Brown Butter and Apple Filling
Steps
Preheat oven to 200C. Prechill ice cream machine.
For the Caramelised Golden Raisin Ice Cream, place raisins, golden syrup, butter and 100ml water into a saucepan and heat until the raisins are plump, and the golden syrup begins to caramelise. Remove from heat then puree with a stick blender until smooth.
Place cream and milk in a saucepan and heat until mixture comes to a simmer. Remove from heat. Place egg, egg yolk and sugar into a large bowl and whisk until combined. While whisking continuously, slowly add hot cream mixture until combined. Return mixture to the saucepan and heat over a low heat, stirring until mixture thickens and reaches 83C. Remove from heat and mix in the golden raisin puree. Pour mixture through a fine sieve into a bowl set over an ice bath to chill.
Churn chilled mixture in ice cream machine according to manufacturer's instructions then place ice cream into the freezer until required.
For the Brown Butter Tart, place flour, butter, sugar, and salt into a food processor and process for a few seconds until mixture resembles breadcrumbs. Add the egg and process until a dough is formed. Turn dough to a lightly floured surface and form into a ball. Roll the dough out in between two sheets of baking paper to 2mm thick. Place baking paper and dough into the freezer for 10 minutes to rest.
Lightly grease and flour four 10.5cm fluted tart tins with a loose base.
Cut four 14cm discs from the dough - slightly larger than the tart shell - then place into the tins and press in gently. Trim the edges of the pastry to fit the tart pan.
Place baking paper onto top of pastry, cover with baking beads and then blind bake in the oven for 8 minutes. Remove baking paper and beads then return to the oven for another 8 minutes or until tart shell is evenly cooked through.
Remove from oven and set aside a room temperature to cool slightly, about 5 minutes. Then place tart tins into a freezer to chill.
Reduce oven to 160C.
For the Brown Butter and Apple Filling, heat golden syrup in a small saucepan. Remove from the heat and then add apple. Stir gently then set aside.
Place butter into a saucepan then heat until butter reaches a golden brown colour. Remove from heat then transfer into a small bowl to cool.
Place sugar and eggs into the bowl of a stand mixer and whisk on high until eggs are light and fluffy, approximately 8 minutes. Sift flour onto the egg mixture and fold through. Carefully fold through the cooled brown butter, ensuring there are no lumps and ingredients are evenly incorporated.
Place the apple into the tart shells then spoon the brown butter mix on top of the apple then bake in oven for 20 minutes, or until just cooked through. Remove from the oven and allow to cool for 5 minutes. Remove from tin and cool on a wire rack.
Dust tarts with icing sugar and serve with ice cream on the side.