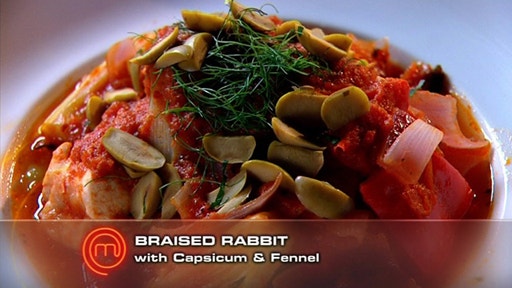 Steps
Cut up the front section (including legs) of the rabbit into 4 pieces.
Heat olive oil in casserole pot and sear rabbit.
Remove rabbit and set aside.
Add leek and 50g butter to pot and braise for a couple of minutes.
Put rabbit, wine and half the oregano back in the pot. Cook rabbit until tender and then add parsnips, tomatoes, red peppers, zucchini and most of the remaining oregano.
Once cooked season with salt and pepper to taste.
Melt remaining butter and add to potatoes in a roasting pan. Cover potatoes with foil and bake in oven until crispy.
Remove potatoes from oven.
Tip remaining butter juices from baking potatoes into a small pot large enough to take the 4 figs.
Slice the figs in a cross from the stem end to half way down.
Over a medium/low heat add the figs stem end up to the small pot. Cook until figs segregate their juices and caramelise.
. To serve, place the crispy potato on the plate, then some vegetables, then a piece of rabbit. Put a caramalised fig to the side, then spoon over juices from the rabbit pot. Sprinkle over some oregano.
Notes
This recipe has been written by an amateur chef and has not been tested by the MasterChef food department.