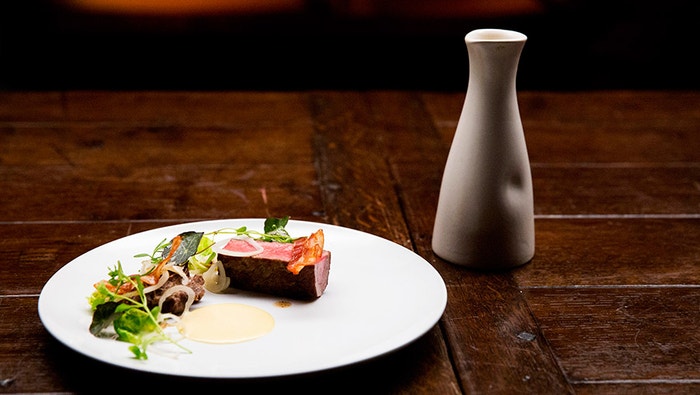 Steps
Set pressure cooker on high. Preheat oven to 180C.
For the Braised Lamb Shoulder, place chicken stock into the pressure cooker. Separate out the lamb shoulder into muscle segments. Add lamb shoulder pieces to the pressure cooker and cook on high pressure for 50 minutes.
For the Pickled Onions, place verjuice, chardonnay vinegar and sugar into a medium saucepan over medium heat. Add onion halves, reduce heat to low, and cook for 10 minutes. Remove from heat and set aside in the saucepan for 15 minutes. Slice onions and carefully break up smaller layers into rings. Set aside in the pickling liquid.
For the Mustard Vinaigrette, place a medium saucepan of water over medium heat and bring to a simmer. Meanwhile, place egg yolks, mustard, lemon juice and verjuice into a bowl and whisk until pale and creamy. Whilst whisking, slowly add the mustard oil then follow with the grape seed oil and continue whisking until pale. Set bowl over saucepan of simmering water and whisk until mixture is pale and creamy and has reached 70C. Add more verjuice and seasoning to adjust taste if required. Transfer to an isi gun, charge twice and set aside.
For the Roast Lamb Backstrap, heat oil in a medium sized frypan over high heat. Add lamb backstrap and seal on all sides. Add butter to the pan and swirl to melt. Napè the lamb with the melted butter then add lemon juice. Transfer to the oven and roast until just pink inside, about 4-5 minutes. Remove from oven and transfer to a wire rack set over a roasting tray. Pour pan juices over the lamb and set aside to rest for 10 minutes.
For the Crispy Bacon, place a medium fry pan over medium heat and add kaiserfleisch slices. Fry until golden and crisp, about 2-3 minutes. Remove from pan and set aside on paper towel. Keep fry pan on the heat.
For the Brussel Sprouts, add sliced shallots and brussel sprout petals to the reserved frypan and cook until just softened, about 1-2 minutes. Remove from heat and set aside in a bowl.
For the Sauce, heat 100g unsalted butter in a small saucepan over medium heat until brown but not burnt.
Turn off pressure cooker, remove lamb pieces and set aside to rest. Spoon 3 ladles of the cooking liquid into a medium frypan over high heat. Add rested lamb backstrap to the pan with all juices from the resting tray. Coat lamb piece in the sauce and remove from heat. Add apple cider vinegar and continue to cook sauce until reduced by half. Add browned butter and stir to combine. Remove from heat and transfer to a jug.
For the Salad, refresh chickweed, nasturtium, pineapple sage, tarragon, mint in a bowl of iced water then remove and lay out on paper towel to remove excess water. Reserve for plating.
To serve, place a portion of the Roast Lamb Backstrap and a portion of the Braised Lamb Shoulder onto the plate. Add some Brussel Sprout Petals, Pickled Onions and some torn pieces of Crispy Bacon. Syphon some Mustard Vinaigrette to the side of the lamb. Garnish with some tarragon, nasturtium, mint and chickweed leaves. Serve Sauce in a jug on the side.