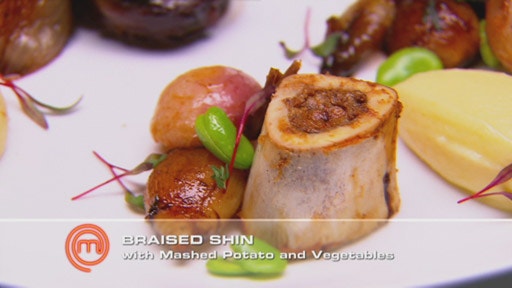 Steps
Preheat oven to 200°C fan forced.
For potato mash, pierce potatoes a few times with a sharp knife then place on a bed of rock salt. Roast for 1 hour or until tender. Halve potatoes and push, cut-side down through a drum sieve into a large bowl, stir in milk and butter and season with salt and pepper.
Dust beef with seasoned flour. In a medium frying pan heat 1 tablespoon oil and cook carrot, onion and garlic until well caramelised. Meanwhile heat 1 tablespoon oil in a pressure cooker and brown beef on all sides until it has a nice crust. Transfer vegetables to pressure cooker. Add red wine, veal stock, rosemary and thyme. Bring to the boil, cover, bring up to pressure and cook for 45-55 minutes or until beef is tender.
Place a thin layer of sliced butter in a small saucepan. Lay turnips, flat side down on top of butter. Cook over low heat, adding chicken stock once the butter has melted. Cook until turnips are tender.
Once beef is cooked, pour liquid into a frying pan and bring to simmer over medium-high. Simmer until sauce has reduced, adding a butter and little red wine or stock to balance flavour.
To serve; arrange the beef, turnips, eschalots and quenelles of mash potato onto serving plate. Scatter over the cress and serve sauce in a sauceboat on the side.
Notes
Preparation: 20 minutes Cooking: 1 hour 20 minutes