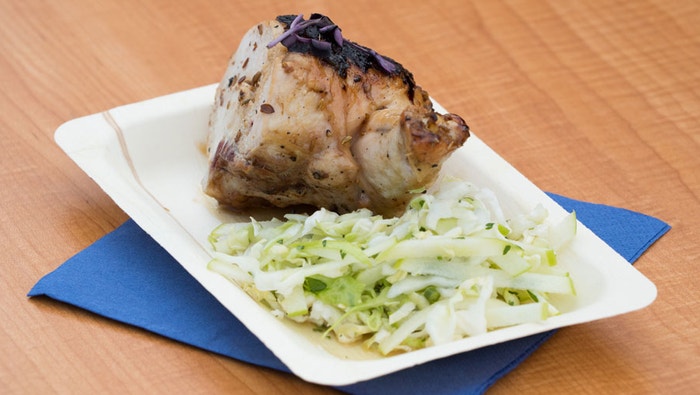 Steps
Preheat oven to 190C.
For the Spiced Chicken, heat a small fry pan over medium heat. Add fennel, coriander, cumin and black peppercorns and toast until fragrant. Transfer to a mortar and pestle and grind to a fine powder.
Place spice powder into a large bowl and add chicken pieces. Toss to coat evenly then cover with cling film and set aside in the fridge for 30 minutes.
For the Bourbon Glaze, combine bourbon, ginger, garlic, jalapenos, ginger beer, vinegar and sugar into a small saucepan over medium heat and reduce to a thickened syrup consistency. Remove from heat and set aside.
Remove Spiced Chicken from the fridge. Heat a large frypan over medium heat, add chicken pieces and fry until golden brown on all sides, about 4-5 minutes. Transfer chicken pieces onto a baking tray lined with baking paper and brush with the Bourbon Glaze. Bake in the oven, basting chicken with the glaze every 5 minutes, until the all pieces are cooked through, about 18-20 minutes. Remove from oven and set aside to rest.
For the Slaw Dressing, whisk lemon and lime juices, sugar, chilli and salt together in a bowl until sugar has dissolved. Set aside.
For the Cabbage and Apple Slaw, peel and julienne apples then place into a large bowl with ginger beer, chardonnay vinegar and some ice and set aside to infuse for 10 minutes. Slice cabbage thinly and place into a separate bowl. Once apple has infused, add sliced cabbage to the bowl of apple and toss to combine. Add reserved Slaw Dressing and toss to coat.
To serve, slice chicken breasts in half. Place half a chicken breast and one drumstick onto each plate. Spoon some Cabbage and Apple Slaw to the side of the chicken.