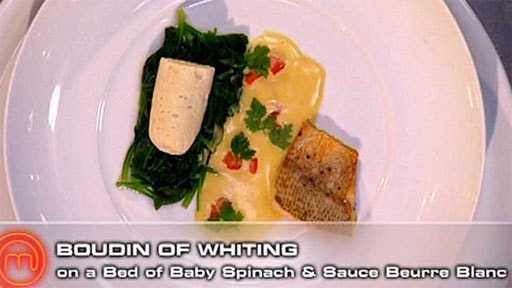 Steps
For beurre blanc sauce, combine eschallots, peppercorns, thyme, bay leaf, white wine and vinegar in a saucepan and simmer, until 95% reduced (or until all liquid is almost evaporated). Add cream, bring to boil. Reduce heat to very low. Slowly add butter, whisking continuously (otherwise mixture will split), a little at a time until combined. Season with salt and pepper. Pour mixture through a fine sieve into a jug, cover and keep in a warm place. Makes 1/3 cup.
Blanch tomato in a saucepan of boiling water for 10-20 seconds, transfer to a bowl of iced water. Cool slightly, peel, quarter, de-seed and finely dice.
For the boudin, process 125g of whiting and the egg whites in the food processor until a smooth paste.
Place fish paste and cream in a bowl, mix until combined, add salt to taste. The salt will also tighten the mix.
Place 80g of the mixture on a piece of plastic wrap, roll into a sausage shape about 3cm diameter and tie a knot at each end, repeat the procedure until you use all the mixture.
Poach the boudin for about 7-9 minutes in a large saucepan of barely simmering water until just firm to touch.
Heat oil in a frying pan, cook whiting until golden on both sides. Blanch spinach in a saucepan, drain well.
Serve boudin of whiting on a bed of baby spinach with beurre blanc sauce.