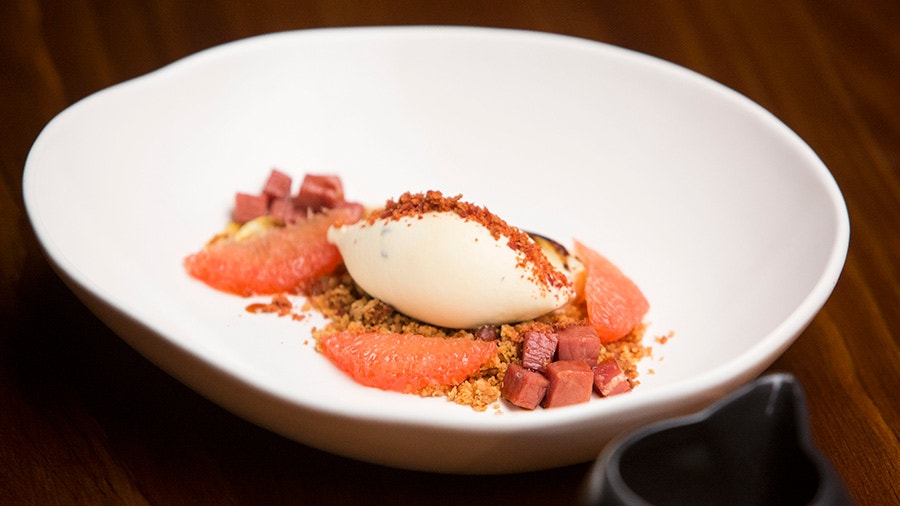 Steps
Pre-heat oven to 180C and turn on ice cream machine to pre-chill.
For the Blue Cheese Ice Cream, combine milk and cream in a medium saucepan and bring to just below boiling point. Remove from heat and set aside until needed.
Meanwhile, place egg yolks and sugar into the bowl of an electric mixer fitted with the whisk attachment and whisk together until creamy. While whisking continuously, gradually add the hot cream mixture to the egg mixture. Once combines, return the mixture to the saucepan and place over a low heat. Add blue cheese, a little at a time, to taste, stirring continuously until mixture thickens and reaches 80oC. Once at temperature, remove from heat and transfer to a medium bowl. Set over an ice bath to cool until needed.
Once cold, transfer the anglaise to the ice cream machine and churn according to manufacturer's instructions. One churned, transfer ice cream into freezer to set until needed.
For the Almond Crumb, place almonds onto an oven tray and toast in the pre-heated oven until golden, about 10 minutes.
Once toasted, transfer almonds to the bowl of a food processor. Add remaining ingredients and blitz until combined and a soft dough forms. Roll dough onto a sheet of baking paper to a thickness of 1cm. Transfer dough, still on the baking paper, on to a flat baking tray and bake in the pre-heated oven until light golden brown, about 12 -15 mins.
Once baked, remove biscuit from oven and set aside to cool. Once cool enough to handle, break into crumbs and set aside on tray until needed.
For the Prosciutto Powder, lay prosciutto onto a baking tray lined with baking paper. Bake in the pre-heated oven until crisp, about 10 – 12 minutes. Once crisp, remove from oven and cool on tray.
Once prosciutto is cold, break up with fingers and place pieces into a spice grinder. Process to a fine powder and set aside in a small bowl until needed.
For the Candied Prosciutto, place the diced prosciutto into a medium frypan and place over a low heat until the fat renders and the prosciutto is soft but not crispy. Remove from pan and drain on kitchen paper.
Heat a heavy based frypan over medium heat, add sugar and melt until sugar starts to caramelise. Add 50ml water and whisk quickly to deglaze the pan. Return prosciutto to pan and mix to coat prosciutto with glaze. Remove from heat, transfer to a baking tray lined with baking paper and set aside until needed.
For the Charred Wombok Hearts, remove tough outer leaves from wombok. Place a large frypan over medium high heat and add 1 tablespoon oil. Place wombok, cut side down onto pan and cook for 4 minutes until charred and slightly burnt. Turn to cook other cut side until charred. Reduce heat to gently cook wombok until slightly soft, about 2-3 minutes. Season with salt and remove from heat, set aside until needed.
For the Grapefruit in Syrup, segment one grapefruit and set aside in a small glass bowl. Place trimmings and remaining peeled grapefruit into a juicer to yield 200ml of juice and set aside until needed.
Place sugar and 200ml water into a small saucepan and place over medium heat. Stir to dissolve sugar then bring to the boil and add thyme sprigs. Reduce heat to a simmer, add grapefruit juice and simmer over low heat until reduced by 1/3, about 6 – 7 minutes. Remove from heat, strain syrup through a fine sieve and set aside to cool slightly.
Once cool, add grapefruit segments and set aside to infuse, about 20-25 minutes.
To serve, place Charred Wombok Heart on one side of each serving plate. Place 2 tablespoons of Almond Crumb next to wombok in the centre of each plate.
Place quenelle of Blue Cheese Ice Cream on the crumb. Sprinkle Prosciutto Powder over the ice cream. Arrange Candied Prosciutto in two piles on either side of each plate. Add segments of drained grapefruit around the plate, drizzle with grapefruit syrup and serve.