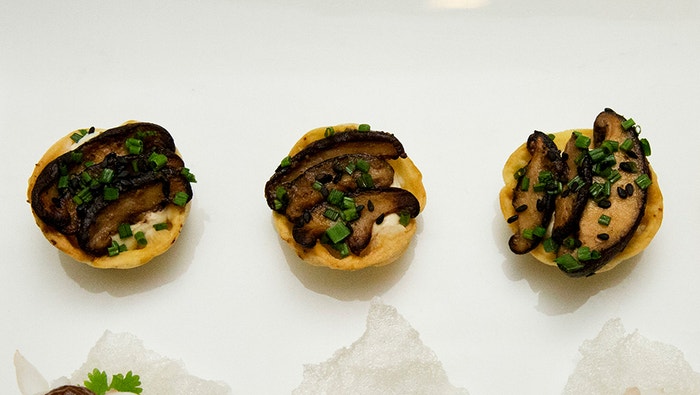 Steps
Preheat oven to 180C.
For the Fillo Pastry Tart Shells, place the flour, salt, olive oil and white vinegar in the bowl of an electric mixer fitted with a dough hook attachment and mix to combine. Slowly pour in 120ml water, in a steady stream, until the mixture comes together and forms a dough.
Continue kneading the dough in the mixer until a smooth, elastic texture is achieved, about 5 minutes. Remove dough and shape into a disk. Cover with cling wrap and leave on bench to rest at least 15 minutes.
Portion dough and using a pasta machine, dusted in flour, pass each portion through the thickest setting. Fold in half and pass through again, dusting with more flour as necessary. Repeat 4-5 more times until soft and smooth. Pass the dough through the roller, reducing the setting each time until the second last setting is reached. Repeat with each portion. Lay each length of dough onto a lightly floured bench.
Using a 7cm cookie cutter, cut out 36 rounds from the dough. Place a round into each hole of a greased 12 hole muffin tin. Brush each round with olive oil. Repeat twice more until all rounds are used. Sprinkle top layer with black sesame seeds and place in the oven to bake until golden brown, about 15-20 minutes. Remove from oven and place on wire rack to cool.
For the Tofu Mousse, place vegetable stock, soy sauce and mirin in a bowl and stir to combine. Place tofu in a blender and blend while gradually adding the vegetable stock mix until mousse is light and smooth. Transfer mousse to a piping bag and place in fridge until serving.
For the Dressing, place ingredients in a small bowl and stir to combine. Set aside to use for Shiitake Mushrooms and for serving.
For the Shiitake Mushrooms, place dried shiitake mushrooms and salt in a blender and blend to a fine powder. Set aside.
Place grapeseed oil in a frypan and set over high heat. Add shiitake mushrooms, kombu, soy, mirin, and miso and sauté until mushrooms are browned and slightly softened, about 5-7 minutes. Remove kombu and discard. Add shiitake powder, black sesame seeds and 1 tablespoon Dressing and stir to combine.
To serve, pipe Tofu Mousse into tart shell. Lay 3 slices of Shiitake Mushroom over the top of the mousse. Dress each tart with ½ teaspoon of Dressing then garnish with chives and sesame seeds.