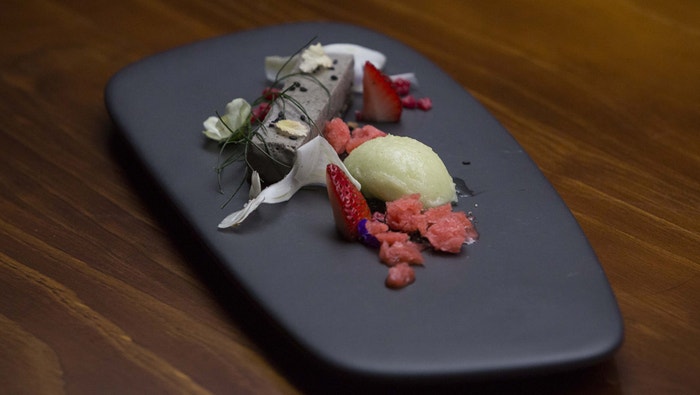 Steps
Preheat oven to 190C. Turn on ice cream machine to chill.
For the Dacquoise Layer, place egg whites and sugar into a stand mixer fitted with a whisk attachment and whisk until thick and glossy. Pass almond meal and crushed sesame seeds through a sieve then fold through meringue and mix gently until well combined.
Spread dacquoise mixture into a 21.5cm x 13.5cm shallow slice tray lined with baking paper and bake until light golden, about 15-20 minutes. Remove from oven and turn out onto a chopping board. Trim edges down and place into a 20cm x 11.5cm loaf tin lined with baking paper. Set aside.
For the Black Sesame Bavarois Layer, place gelatine into a bowl of iced water and set aside to bloom.
Place egg yolks and sugar into a stand mixer fitted with a whisk attachment and whisk until thick and pale.
Place milk, cream and crushed sesame seeds into a small saucepan over medium heat and bring to just below boiling point. Remove from the heat and whisk warm milk mixture into the egg mixture. Pour back into the saucepan and stir over low heat until thickened slightly then remove from heat. Squeeze out gelatine to remove excess water, add to the hot mixture and whisk until completely dissolved. Set over an ice bath until mixture cools and just begins to set. Pour mixture into the tin of reserved Dacquoise Layer and smooth out using a spatula to ensure a level surface. Sprinkle with black sesame seeds and set aside in the fridge to set.
Meanwhile, for the Fennel Sorbet, place fructose, glucose, vodka and 100ml water into a small saucepan and stir over medium heat until sugar dissolves. Remove from heat and transfer to the fridge to chill. When cold whisk in fennel juice until completely combined. Transfer to ice cream machine and churn according to manufacturers instructions.
For the Strawberry Granita, juice the strawberries through a slow juicer and place juice into a 21cm x 13cm loaf tin. Place into freezer and scrape surface with a fork every 20 minutes until an icy, granita texture is achieved. Leave in freezer until serving.
To serve, cut Black Sesame Bavarois Dacquois into rectangles and place diagonally onto serving plates. Add a rocher of Fennel Sorbet and spoon some Strawberry Granita around the plate. Garnish with some quartered fresh strawberries, shaved fennel, edible flowers and frozen raspberry cells.