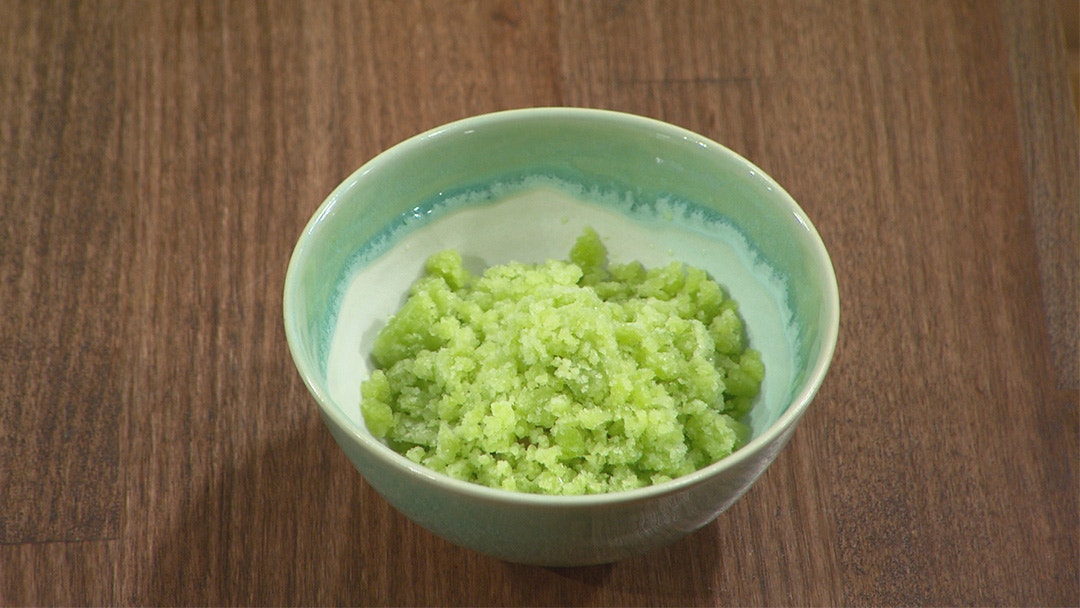 Ingredients
Parisienne Cucumber and Apple
Steps
Prechill ice cream machine and prepare an ice bath in a large bowl.
For the Kalamata Olive Ice Cream, place olives into a saucepan with cream, milk and lemon juice. Process with a stick blender until olives are finely chopped. Place over medium heat and bring to just below boiling point. Remove from the heat.
Place egg and sugar into the bowl of a stand mixer and whisk until creamy. While whisking, add ½ of the warm olive mixture and whisk until combined. Return to the saucepan and mix together.
Place over medium heat and stir continuously with a silicon spatula until mixture thickens and reaches 83°C. Remove from the heat and pour through a large fine sieve into a bowl. Place over ice bath. Whisk in 2 pinches salt, or to taste and allow to cool.
Churn in ice cream machine according to manufacturer's instructions. Set aside in the freezer until required.
For the Cucumber Granita, place a shallow baking tray into the freezer.
Place ingredients into a small saucepan and place over low heat, stirring occasionally until sugar dissolves.
Bring syrup to a simmer then remove from the heat. Sieve mixture into jug and pour onto the frozen tray. Return to the freezer.
After 15-20 minutes, fork the granita to one side of the tray to break down large crystals. Scrape the surface of the granita regularly until a fluffy texture is achieved. Store in freezer until serving.
For the Parisienne Cucumber and Apple, place 2 cups cold water into a bowl and add the lemon juice.
Cut apple in half. Cut cucumber in half lengthways and scoop out 18-24 balls from the flesh of each, avoiding the seeds and place into the lemon water. Drain well to serve.
To serve, scoop ice cream into shallow serving bowls. Add the cucumber and apple and cover completely with granita. Serve immediately.