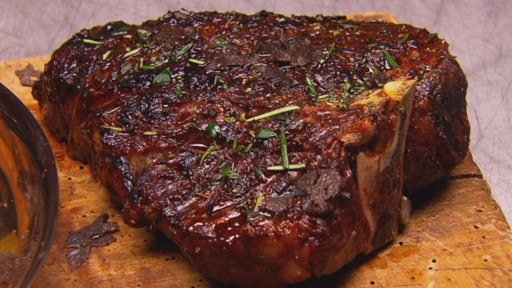 Steps
Preheat a barbecue to medium. Brush both sides of the T-bone with oil and season with salt, pepper, thyme and rosemary. Place on the barbecue and cook for 7-10 minutes on each side. This will ensure the meat is rare to medium rare. Drizzle with oil, rest for 5 minutes before slicing.
For roasted vegetables, slice the potatoes and artichokes to a similar size, about 1cm pieces to ensure they all cook evenly. Heat oil in a frying pan over a medium high heat, add all vegetables, garlic, rosemary and thyme and cook until tender and golden on all sides. Add vinegar in the last minute of cooking to deglaze the pan.
For salsify, half fill a small saucepan with water and bring to the boil, add lemon juice, lemon slices and salsify. Cook for 10-15 minutes or until tender, drain. Melt butter in a small frying pan, add a splash of water, add drained salsify and cook for 5 minutes, basting with sauce to coat.
For the brown onion puree, heat oil in a frying pan over medium-high heat. Add onion and cook, stirring occasionally for 20-25 minutes or until onion has begun to caramelise. Add a good splash of vinegar and a little water and cook for a further 5 minutes. Allow to cool slightly, transfer to a food processor and process to a smooth puree. Sieve.
To serve, place rested steak on a large wooden board, drizzle over onion puree and arrange vegetables on top. Garnish with freshly shaved truffle, rosemary and thyme.