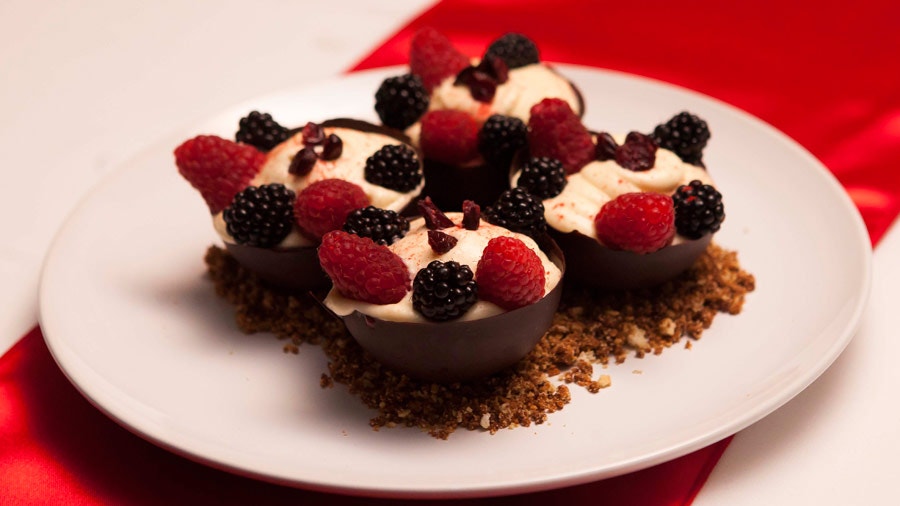 Steps
Preheat oven to 190C.
For the Choc Bowls, place 80g of the chocolate into a heatproof bowl and microwave in 30-second bursts, stirring in between each burst, until completely melted. Add remaining chocolate and stir until chocolate reaches 32C. Use a pastry brush to coat the inside of 4 x 6cm dome moulds with chocolate, ensuring an even coat. Level off the edges of the domes and set aside in the freezer.
For the Coulis, place all ingredients in a small saucepan over low heat and stir to combine. Simmer over low heat until berries have softened, about 8-10 minutes. Remove from the heat and set aside to cool slightly. Once cooled, use a stick blender to blend the berries to a smooth puree, and then strain through a fine sieve into a clean bowl. Set aside in the fridge.
For the Mousse, place white chocolate into a medium sized bowl and set aside.
Place milk and vanilla into a small saucepan over low heat and bring to a simmer. Meanwhile, whisk egg yolks and sugar together in a bowl until pale and creamy. Whilst whisking, slowly pour in the warm milk mixture and continue to whisk until combined. Return mixture to the saucepan over low heat and stir until mixture has thickened slightly. Remove from the heat, pour over the bowl of white chocolate and whisk until smooth. Set aside in the fridge until completely cold, about 10-15 minutes.
Meanwhile, place cream into a stand mixer fitted with a whisk attachment and whip to stiff peaks.
Remove cooled white chocolate mixture from the fridge and fold in the mascarpone. Fold in the whipped cream until fully incorporated then transfer mixture to a piping bag and set aside in the fridge.
For the Soil, place white chocolate onto a baking tray lined with baking paper. Bake in the oven until golden, about 6-8 minutes. Remove from oven and set aside until completely cold. Combine cooled white chocolate, biscuits and popping candy in a food processor and blitz to a coarse crumb. Set aside.
To serve, spoon some of the Soil onto the middle of the plate. Demould the Choc Bowls and fill with the Coulis to 1/3 full. Pipe Mousse on top of the Coulis to fill the dome. Top with some fresh blackberries, raspberries and craisins and sit the dome on top of the soil.