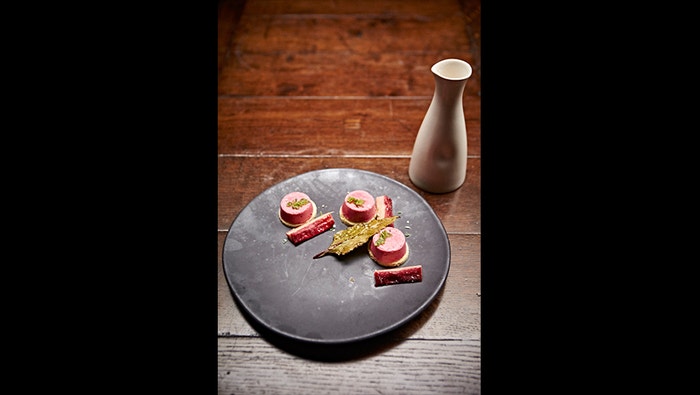 Steps
Preheat oven to 180C.
For the Beetroot Parfait, juice beetroot and strain through a sieve. Set aside.
Place a medium saucepan of water over medium heat and bring to a simmer. Place egg, egg yolks and sugar in a medium bowl. Sit bowl over the saucepan of simmering water, and whisk until pale and fluffy. Remove from head and set aside to cool slightly.
Place cream into a stand mixer fitted with a whisk attachment and whip cream to stiff peaks.
Add beetroot juice to the egg mixture and stir until combined. Fold whipped cream into the beetroot mixture until combined. Pour mixture into twelve 4cm round moulds and set aside in the freezer to set.
For the Rosemary Salt, place salt and finely chopped rosemary leaves into a small bowl and mix together. Set aside.
For the Rosemary Shortbread, place all ingredients into a food processor and blitz until mixture comes together as a dough. Remove dough, wrap in cling film and rest in the fridge for 10 minutes.
Remove rested dough from the fridge. Roll dough out between 2 sheets of baking paper to 1cm thick. Use a 4cm ring cutter to cut out twelve 4cm sized shortbread biscuits. Discard surrounding dough from the biscuits. Transfer biscuits to a baking tray lined with baking paper. Bake until golden, about 12-15 minutes. Remove from oven and set aside to cool.
For the Beetroot Leaves, lay beetroot leaves onto a baking tray lined with baking paper. Drizzle with oil and sprinkle with salt. Bake until crisp, about 5-8 minutes. Remove from oven and set aside.
For the Roasted Rhubarb, lay rhubarb lengths onto a baking tray lined with baking paper. Sprinkle with sugar, salt and 1 tablespoon of water and roast until tender but still holding their shape, about 12-15 minutes.
For the Beetroot Caramel, place sugar and ¼ cup of water into a medium saucepan over medium heat. Heat until sugar has dissolved and turned amber in colour. Remove from heat and deglaze with beetroot juice, whisking to until fully combined. Whisk in rosemary and salt and transfer to a serving jug.
To serve, place three Rosemary Shortbreads onto each serving plate and top each with a Beetroot Parfait. Add some Roasted Beetroot, Beetroot Leaves and a sprinkle of the Rosemary Salt. Garnish with some chervil leaves and serve with Beetroot Caramel.