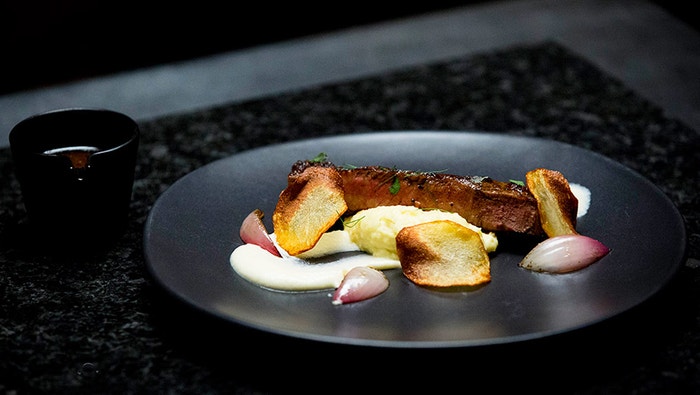 Steps
For the Onion and Fennel Glaze, cut sirloins away from the t–bone steaks and set aside until needed. Cut up remaining trimmings on the t–bone into small pieces.
Heat a large wide saucepan over medium heat. Add oil then add steak trimmings and bones and fry until brown. Add onion and fennel to the pan and fry off until caramelised. Add garlic and fry off. Add stock to the pan and bring to the boil, then reduce heat and simmer until thickened and darker in colour, about 30-35 minutes. Strain into a clean saucepan and place over medium heat. Continue to cook until reduced and syrupy, then add butter and stir well until combined. Remove from heat and season to taste. Set aside.
For the Pickled Onions, combine rice wine vinegar, salt, sugar and 1 tablespoon of water in a small saucepan over low heat. Stir until sugar and salt have dissolved then remove from heat and transfer to a bowl. Allow pickling liquid to cool completely.
Meanwhile, carefully separate the inner most layers of the red onions. Once pickling liquid has cooled, add onion layers and set aside to pickle for 30 minutes.
Once pickled, heat a medium frypan over medium heat. Remove pickled onion layers from liquid and place edge down into the hot pan to caramelise the edges. Remove from heat and set aside until required.
For the Celeriac Purée, place cubed celeriac into a medium sized saucepan and cover with cold water. Place over high heat and bring to the boil. Once boiling, continue to cook until pieces begin to break down. Drain the celeriac, reserving about ½ - 1 cup of the cooking water.
Place celeriac into a blender with butter and blitz until smooth. You may need to add a tablespoon or so of the reserved water to loosen the purée. Add half the cream to the blender and blitz again. Adjust the purée with more cream and cooking water if required. Season with salt and white pepper to taste, and set aside.
For the Potato Mash, place potatoes into a large saucepan and cover with cold water. Place over high heat and bring to the boil, then continue boiling until tender. Drain the potatoes and place into a large bowl with butter and mash until smooth. Add in the cream and continue to mash until smooth. Season to taste and set aside.
For the Potato Chips, place oil into a small saucepan and heat over medium heat. Add a slice of potato to the oil and if the oil starts bubbling, it is ready for frying. Fry slices of potato, in batches, gently moving around with a metal spider to keep them separated, until golden. Remove slices from oil and place onto paper towel to drain. Season with salt while hot and set aside.
For the Steak, place a large heavy based frypan onto medium heat. Season steak with salt, pepper and a drizzle of oil, ensuring all sides are well coated.
Once frypan is hot, add steaks and cook on one side for 3 minutes. Flip steak and add butter to the pan. Cook for a further 2 ½ minutes, basting the steak with the melted butter in the pan. Remove steak from pan and set aside on a wire rack set over a tray to rest.
To serve, spread some Celeriac Purée onto one side of the plate. Spoon some Potato Mash onto the purée. Trim steak into evenly sized rectangular pieces and place onto the purée. Spoon some of the Onion and Fennel Glaze onto the non-cut sides of the steak. Place some petals of Pickled Onion around the purée. Place some Potato Chips against each piece of onion. Garnish with some fennel fronds and micro shiso leaves. Serve remaining Fennel and Onion Glaze on the side.