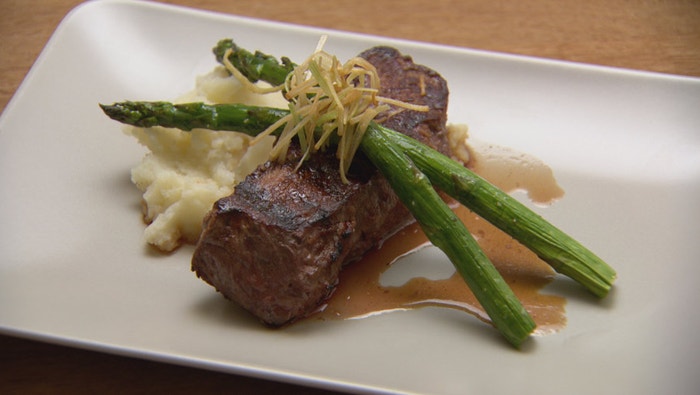 Steps
Preheat the oven to 180C.
For the Jus, heat 1tbsp vegetable oil in a large frypan over medium heat. Add beef bones and fry off until just browned. Transfer to a baking tray and place into the oven. Roast until caramelised, about 15 minutes. Remove from oven and set aside.
Reduce oven to 160C.
Heat 1 tsp vegetable oil in a large flameproof casserole dish. Add reserved roast beef bones, chuck steak pieces, onion, garlic, carrots and celery and fry off until caramelised. Add remaining ingredients to casserole dish and cover with water. Cover with lid and place into the oven to cook for 1 hour.
Remove from oven and strain through a fine sieve three times. Use a ladle to skim surface of any remaining fat. Pour into a clean saucepan over medium heat and cook until reduced, about 30 minutes. Remove from heat and set aside.
For the Crispy Leeks, half fill a small saucepan with vegetable oil and heat to 180C.
Place julienned leeks into a bowl and add besan flour. Toss until leeks are completely coated then place into hot oil and fry until crisp, about 2 minutes. Remove, season and set aside on paper towel.
For the Truffle Mash, place diced potatoes into a large pot of cold salted water and bring to the boil. Once boiling, continue to cook until soft, about 15 minutes. Strain potatoes and pass through a potato ricer into a medium bowl. Add butter, cream, truffle infused oil and mix until smooth. Season to taste and set aside, keeping warm.
For the Asparagus, place asparagus spears onto paper lined baking tray. Drizzle with oil, salt and pepper and bake until tender and golden, about 12-15 minutes. Remove from oven and set aside to keep warm.
To cook the Sirloin, heat a griddle pan over high heat. Drizzle steaks with oil and season with salt and pepper. Cook on grill for 3 minutes each side, or until cooked to your liking. Remove steaks form heat and set aside to rest.
To serve, divide Truffle Mash between serving plates. Top with a piece of Sirloin and some Asparagus. Drizzle with Jus and finish with Crispy Leeks.