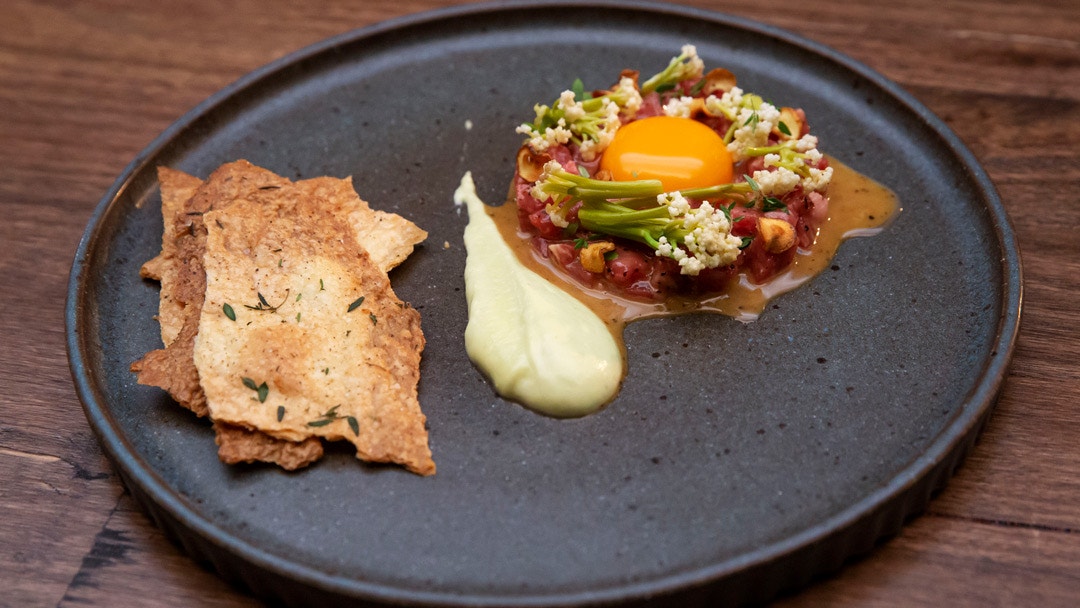 Ingredients
Smoked Parsnip and Caulini Puree
Steps
Preheat oven to 190C.
For the Thyme Lavosh, place all ingredients, except thyme, into a bowl and mix to a soft wet dough. Place between two sheets of greased baking paper. Use a pallet knife to spread as thinly as possible, about 1mm. Remove top sheet of baking paper and sprinkle with thyme leaves. Slide onto a large baking tray.
Bake until lightly golden brown and crisp, about 15 – 20 minutes. Break into shards.
For the Pickled Caulini, place caulini into a bowl. Place remaining ingredients into a saucepan. Bring to the boil and pour over caulini florets. Set aside to pickle for 30 minutes then drain well to serve.
For the Smoked Parsnip and Caulini Puree, place all ingredients into a medium saucepan. Bring to a gentle simmer. Reduce heat to low, cover and cook until vegetables are very tender, about 15 minutes. Transfer to a food processor and puree until very smooth. Use a smoking gun with maple wood chips to smoke the puree for 30 seconds, stir well then smoke for another 30 seconds. Set aside.
For the Tartare, place beef into the freezer for until semi frozen, about 15 minutes. Trim excess fat and cut into 5mm dice. Place into a bowl with remaining ingredients and mix to combine. Cover and set aside in the fridge until ready to serve.
For the Crispy Parsnip, heat grapeseed oil in a small frying pan. Once hot, add parsnip rounds and cook, stirring occasionally, until crisp. Remove from oil and drain on paper towel.
To serve, place a 9cm ring mould onto serving plate and fill with 80g Tartare mix. Top each with Crispy Parsnip, Pickled Caulini and an egg yolk. Spoon some puree onto each plate and serve with shards of Thyme Lavosh.