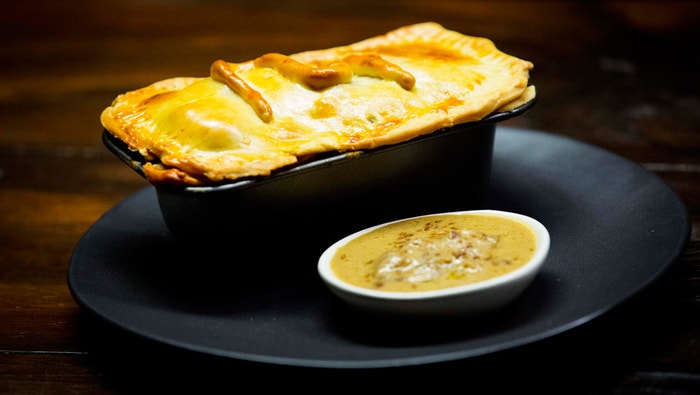 Steps
Preheat oven to 180C.
To make the Pastry, use fingertips to rub flour, butter and salt together to a fine crumb. Add enough water until a dough comes together. Knead briefly until smooth. Wrap in cling film and set aside in the fridge to rest for 30 minutes.
To make the Beef Filling, heat 1 tbsp of oil in a large frypan over high heat. Add beef pieces and fry until browned. Add 375ml water then transfer to a pressure cooker. Cook on high heat for 30 minutes, until beef is tender. Release pressure and set aside.
For the coconut sauce, place coconut cream in a small saucepan and add sliced ginger and 2 teaspoons each of cumin and coriander seeds. Simmer for 5 minutes then strain. Set aside half for pie filling. To finish the coconut sauce, return remaining coconut cream to a simmer. Stir in remaining diced shallot, 1 teaspoon soy sauce and 1 teaspoon flour and stir until thickened. Place into small ramekins and sprinkle with extra cumin seeds and set aside.
To finish the pie filling, melt butter in large frypan and shallots, capsicum, garlic, ginger, soy sauce, fish sauce, coriander and cumin. Fry until vegetables are soft and slightly caramelised, about 2 minutes. Add cooked beef and beef juices to pan and cook on high until liquid has reduced. Stir through flour and reserved coconut cream and simmer until thickened. Remove from heat, season and set aside to cool.
To assemble the pie, grease a 18cm x 9cm loaf tin and line with a strip of baking paper. Roll out two thirds of pastry into a rectangle of approximately to 5mm thickness and gently line loaf tin. Add cooled filling. Roll out remaining pastry and cover filling. Press down edges with a fork to seal pastry and pierce the top of the pie with a knife. Brush with egg and bake until golden and crisp, about 30-35 minutes. Allow to cool for 10-15 minutes.
To serve, place a portion of pie onto plate and a ramekin of sauce on the side.