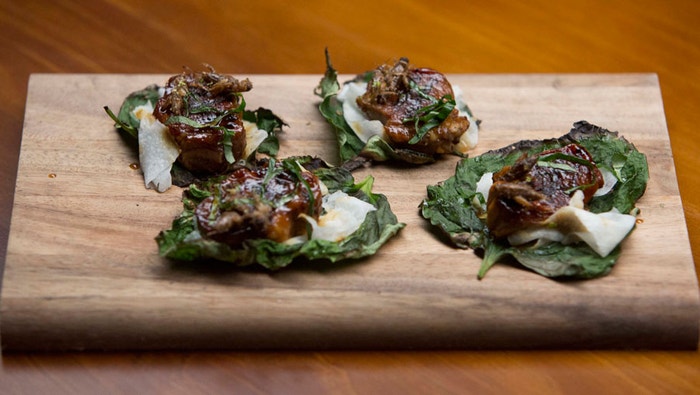 Steps
Heat oven to 180C. Line 2 large baking sheets with baking paper.
For the Tamarind Glaze, place sugar and ½ cup water into a medium fry pan over high heat until sugar dissolves and turns golden brown. Add tamarind purée and stir through to combine. Add lime juice and rind, butter and salt and pepper and whisk to combine. Set aside until needed.
For the Betel Leaves, lay betel leaves onto a baking tray lined with baking paper. Brush with oil and bake for 10-15 minutes in the pre-heated oven until crisp and browning around the edges. Remove trays from oven and set aside until needed.
For the Pickled Jicama, combine sugar and ½ cup water in a small saucepan over medium heat and simmer until sugar dissolves. Remove from heat, add remaining ingredients, except for the jicama and set aside to cool slightly.
Meanwhile, peel the jicama and use a mandolin to slice very thinly, about 1mm. When the pickling liquor is cool, add the jicama slices and set aside to pickle for 15 minutes.
For the Goat Cutlets, season cutlets with salt and place into a large bowl and cover the bowl tightly with several layers of cling wrap. Prepare s smoking gun filled with hickory smoking chips. Pierce the cling film and insert the nozzle of the smoking gun into the bowl. Fill the bowl with smoke for several minutes then remove nozzle and quickly seal the hole tightly with cling wrap. Set the bowl aside and allow to smoke for 10 minutes.
Heat a large griddle pan over high heat. Rub the goat cutlets with the oil and salt to taste. Brush with tamarind glaze and cook cutlets in the hot griddle pan for 1 minute on each side. Transfer to oven and cook for 5 minutes until caramelised. Remove from oven and rest. Remove goat meat from bones and shred. Set aside, keeping warm until ready to serve.
For the Fried Crickets, place the oil in a small saucepan over high heat and heat to 200C. Toss crickets in seasoned flour. Shake of excess and drop into the hot oil. Fry the crickets for 30 seconds until golden and crisp. Remove from oil and drain on kitchen paper until needed.
To serve, arrange Betel Leaves onto a large serving board. Remove the Pickled Jicama from the pickling liquor and drain well. Place several slices of the Pickled Jicama on top of each Betel Leaf. Top with a large spoonful of shredded goat meat and sprinkle several Fried Crickets over the top of each leaf.