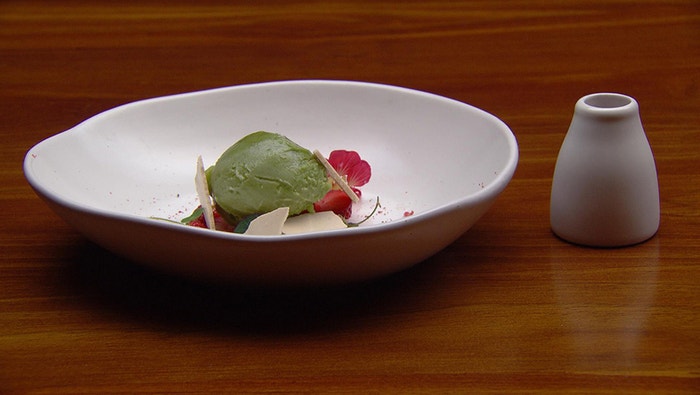 Steps
Pre chill ice cream machine and preheat oven to 110C.
For the Basil Sorbet, place sugar, glucose and 300ml water in a saucepan and bring to the boil over medium heat until sugar has dissolved. Remove from heat, transfer to a bowl sitting over an ice bath and whisk to cool.
Place basil and 100mls water into a blender and process until smooth. Add to the cold sugar syrup and stir to combine. Strain through a fine sieve into an ice cream churner. Churn according to manufacturer's instructions then place into the freezer to set until serving.
For the Pink Peppercorn Meringue, place pink peppercorns and sugar into a small food processor and process until fine.
Whisk egg white with an electric hand mixer on medium speed to soft peaks. Add sugar gradually, whisking well after each addition. Once all sugar has been added, increase speed to high until a thick, glossy meringue is formed.
Using an offset spatula, spread meringue thinly over a silicone mat lined baking tray. Place in oven to bake until dry and crisp, about 40 minutes. Increase oven temperature to 120C to caramelise the meringue for 5 minutes. Remove from oven and allow to cool on bench. Break into shards and set aside until serving.
For the Strawberry and Pink Peppercorn Syrup, place ingredients in a small saucepan and bring to a boil. Reduce heat and simmer until reduced to a thick syrup. Remove from heat, strain mixture through a fine sieve and set aside until serving.
To serve, dust each serving plate with ground pink peppercorns then add slices of strawberries. Add wild strawberries, nasturtium leaves and flowers around the plates then add a scoop of Basil Sorbet. Add Pink Peppercorn Meringue shards and a drizzle of Strawberry and Pink Peppercorn Syrup.