All Recipes
Basil Panna Cotta with Balsamic Strawberry Syrup, Roasted Balsamic Strawberries and Peppercorn Tuille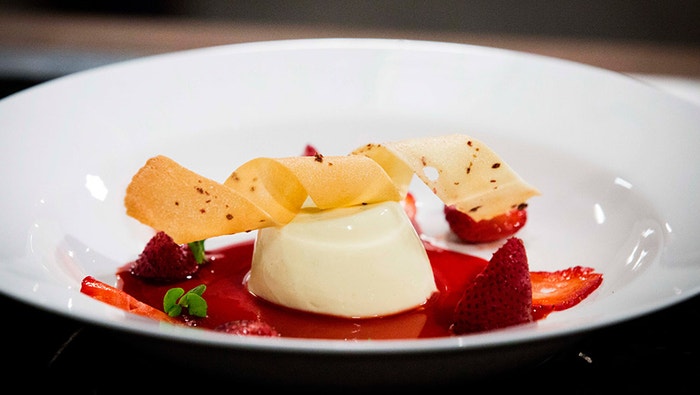 Steps
Preheat oven to 180C.
To make the Basil Panna Cotta, combine milk, cream, sugar and basil in a small saucepan and bring to simmering point, careful not to boil. Remove from heat.
Squeeze out gelatin to remove excess water and stir into the milk and cream. Leave to infuse for a further 5 minutes then strain milk cream mixture to remove any lumps. Pour into 4 x ½ cup dariole moulds and place into fridge to set.
To make the Roasted Balsamic Strawberries, line a baking tray with baking paper. Mix strawberries and balsamic vinegar in a bowl and set aside to marinate for 5 minutes.
Place strawberries on lined baking tray, tips facing up, and bake until just tender, about 10 minutes. Remove from oven and toss gently in pan juices to coat. Set aside to cool.
To make the Balsamic Strawberry Syrup, place strawberries and sugar in a heavy based saucepan with 250ml of water over medium heat and bring to the boil, stirring occasionally. Once syrup reaches boiling point, reduce heat and simmer until the syrup has slightly reduced and is bright red in colour, about 30 minutes.
Remove syrup from heat and stir through balsamic vinegar, add additional vinegar to taste if desired. Strain syrup through a muslin cloth and set aside to cool.
To make the Peppercorn Tuille, line a baking tray with baking paper. Lightly whisk egg white in a bowl then whisk in sugar to form a froth. Sift in flour then mix in melted butter to form a smooth batter.
Use a small palette knife to spread a very thin layer of batter onto the lined baking tray. Sprinkle crushed peppercorns over batter. Place into oven to bake until lightly golden, about 7- 8 minutes.
Remove tray from oven and whilst tuille is still hot, work quickly to cut 4 x 4cm wide strips. Wrap strips around a wooden spoon to form a curl, allow to set, and set aside.
To serve, place panna cotta in bowl, surround with some balsamic strawberry syrup, roasted strawberries. Place tuille on top of panna cotta and garnish with micro basil.