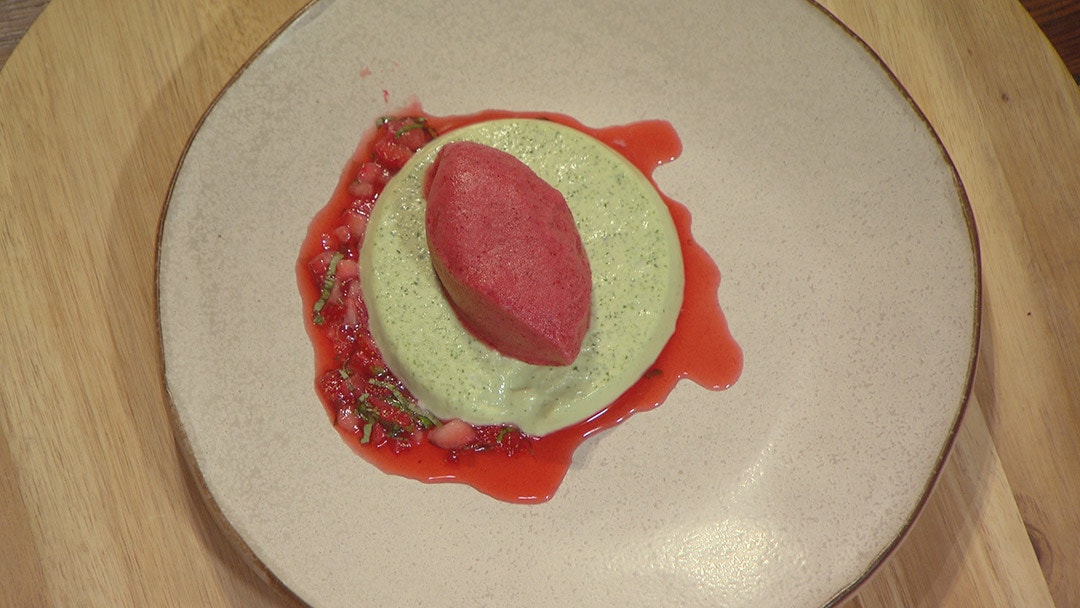 Ingredients
Strawberry and Basil Compote
Steps
Pre-chill ice cream machine. Preheat oven to 180C.
For the Basil Panna Cotta, place the gelatine into a small bowl and cover with cold water. Once softened, drain well and squeeze out excess water. Set aside.
Place the remaining ingredients into a medium saucepan over medium heat.
Stir until the sugar has dissolved then bring to a simmer. Remove from the heat.
Using a stick blender, blend the mixture until basil is very finely chopped. Add the softened gelatine and stir through until dissolved.
Strain through a fine sieve into a pouring jug.
Pour into four 10cm round shallow moulds. Place onto a tray and allow to chill in the freezer for 20 minutes. Transfer to the fridge until set.
For the Plum Sorbet, combine the sugar, glucose and 150ml water in a small saucepan over medium heat. Stir to dissolve sugar then simmer until syrup reaches 100C. Remove from heat.
Place the plums and 150ml of the sugar syrup into a blender and process until smooth.
Pass through a sieve and place into the ice cream machine. Churn according to manufacturer's instructions then pace into the freezer until required.
For the Strawberry and Basil Compote, combine strawberries, sugar, citric acid and 60g water in a small saucepan over low heat. Allow the mixture to simmer gently for 20 minutes.
Strain through a fine sieve. Combine the strawberry syrup with the diced strawberries and basil leaves. Set aside.
For the Raspberry Praline, line a baking tray with baking paper and place into the oven to warm.
Place the freeze dried raspberries into a sieve and set over small bowl.
Place the sugar in saucepan over medium heat and melt to an amber caramel. Shake the pan occasionally to ensure the sugar melts evenly. Remove from the heat.
Remove the tray from the oven and immediately pour caramel onto the tray. While wearing oven mitts, tilt the tray to create an even thin layer of caramel. Immediately sieve the freeze dried raspberries over the top. Set aside to cool and harden. Break into shards to serve.
To serve, unmould a Panna Cotta into the centre of each plate. Add the Strawberry and Basil Compote and scatter with Raspberry Praline shards. Top the panna cottas with a quenelle of Plum Sorbet.