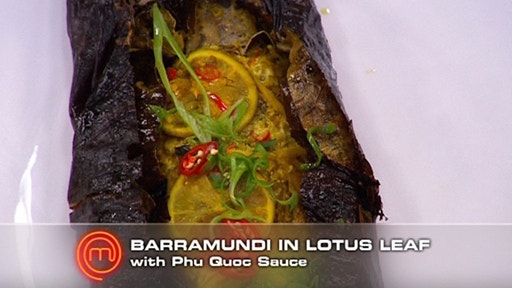 Steps
Soak the dried lotus leaves in hot water for 15 minutes, then drain. Marinate the fish with 2 tablespoons of the seafood sauce for 10 minutes. Slice the spring onions on the diagonal and put them in a bowl of water to soak.
For the Phu Quoc Seafood Sauce, heat the oil in a saucepan over medium heat. Add the garlic, ginger, lemongrass, spring onions and shallots and fry until fragrant. Reduce the heat to low and add the fish sauce, sugar, chilli and turmeric and stir for 1 minute, then add the lime juice and dill. Remove from the heat and set aside to cool
Drain the fish well. Place the lime slices down each side of the fish, then place the fish towards the bottom of the lotus leaf. Fold the bottom end up, covering the fish, and then fold the left and right sides towards the middle. Now roll the fish in the lotus leaf sealing both ends with toothpicks. (If the lotus leaf tears, use the second leaf as a backup.)
Heat a barbecue grill to high and char grill the fish on each side for 15 minutes, then transfer the fish to a platter. Using kitchen scissors, cut through the lotus leaf down the middle, then open out the leaves like a parcel. Garnish with the spring onions and dress with the remaining seafood sauce.