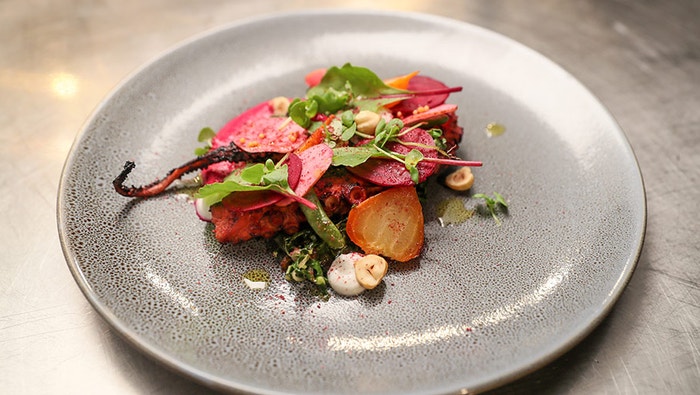 Steps
Preheat oven to 190C. Preheat a hibachi grill or barbeque.
For the Sumac Salt, place the sumac and salt in a mortar and pestle and grind together until well combined. Set aside.
For the Charred Octopus, place the stock and vinegar in a large stock pot and bring to a simmer. Add white wine, rosemary, bay leaves and salt. Add octopus and cook gently until very tender, about 60 - 80 minutes.
Remove from the heat and allow the octopus to cool in the liquid. This process can be done up to 2 days in advance. Remove the octopus from the liquid and cut into individual tentacles. Use paper towel to rub off the skin, keeping the suckers intact.
Brush the octopus with olive oil, then add it to the preheated hibachi grill or barbeque and cook, turning, until well charred, about 4-5 minutes. Remove from the heat, season with the Sumac Salt and set aside.
For the Beetroot Hazelnut Purée, wrap beetroots individually in aluminium foil and place onto a baking tray. Bake in the oven until the tender, about 60-70 minutes.
Remove from the oven. Wearing gloves, unwrap beetroot and remove the skins. Transfer beetroots to a blender with the hazelnuts, yoghurt, salt and olive oil and blend until smooth. Transfer the purée to a bowl and set aside until needed.
For the Roasted Baby Beetroot, peel the golden baby beetroots and lay onto a large piece of aluminium foil. Drizzle with olive oil and sprinkle with sea salt. Roast in the oven until tender, about 45 minutes. Remove from the oven and set aside to cool. Once cool, cut in half and set aside until needed for plating.
For the Quick Pickled Karkalla and Beetroot, combine vinegar, sugar, mustard seeds and 1/2 cup water in a small saucepan. Bring to a rapid boil, then remove from heat and allow to cool. Place karkalla and sliced beetroots into separate containers and strain half the pickling liquid over each. Allow to sit for at least 5-10 minutes.
For the Cavalo Nero, heat oil in a frypan over medium heat. Add shallots and sauté until transparent. Add garlic, anchovies and rosemary and fry off. Add the cavalo nero and sauté. Stir in the white wine vinegar, then remove from the heat and stir through the lemon juice and zest.
To serve, smear a circle of the Beetroot Hazelnut Purée onto the serving plate. Top with some of the Cavalo Nero then top with a piece of Charred Octopus. Add 2 halves of the Roasted Baby Golden Beetroot. Add some pieces of the Quick Pickled Karkalla and Beetroot. Pipe some mounds of goats curd in and around the octopus and beetroot pieces. Add some chopped toasted hazelnuts, baby chard leaves and micro basil. Finish with a drizzle of extra virgin olive oil.