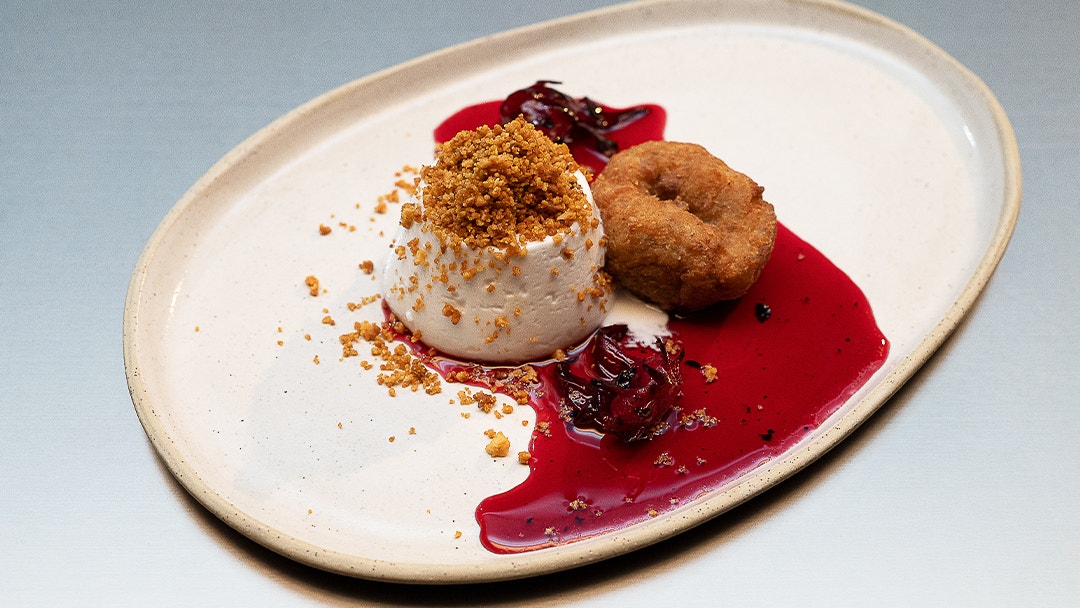 Steps
Preheat the oven to 170°C fan-forced.
For the Coconut Panna Cotta, combine coconut milk, coconut cream and sugar in a small saucepan. Simmer over low heat until sugar has dissolved.
In a small bowl, combine water and gelatine, mix and set aside to hydrate.
Meanwhile, grease six plastic dariole moulds (½ cup capacity) with coconut oil.
Add hydrated gelatine to coconut milk mixture and mix to dissolve. Pass mixture through a fine sieve into a measuring jug.
Divide mixture between dariole moulds and chill for 2 hours or until set.
For the Banana Pakalolo, peel and finely grate cassava.
Place cassava pulp into a muslin cloth lined sieve. Twist to enclose cassava in muslin cloth and press firmly to squeeze all the liquid into a medium bowl. Reserve the cassava pulp and set the liquid aside until it is almost clear and the starch has settled on the bottom.
Meanwhile, for the Spiced Hibiscus, combine dried rosella, water, sugar, cinnamon myrtle and pepperberries in a small saucepan. Cook over high heat for 15 minutes or until thickened to a syrup consistency.
Pass syrup through a fine sieve into a small bowl, reserving the pepperberries. Add pepperberries back to the syrup and crush peppercorns in the syrup. Add the fresh rosella, stir through and set aside.
For the Banana Pakalolo, carefully drain off and discard the clear cassava liquid, leaving the starch in the bowl.
Add reserved cassava pulp, sugar, ¼ cup flour, mashed banana and lemon myrtle and mix well.
Place mixture on a large banana leaf and wrap into 1 parcel. Place on an oven tray and bake at 170°C for 1 hour 20 minutes or until cassava is sticky.
Meanwhile, combine extra ½ cup flour and cinnamon myrtle in a medium bowl, mix well and set aside.
After cooking, combine cooked pakalolo mixture and coconut milk in a medium bowl and mix with a wooden spoon until well combined. With greased hands, roll mixture into 60g balls and roll each through cinnamon myrtle flour to coat. Make a small indent in the centre of each ball.
Heat a deep fryer of canola oil to 180°C.
In batches, deep fry pakalolo for 5 minutes or until golden. Drain on a paper towel lined tray.
To serve, put dariole of panna cotta in warm water for 10 seconds. Turn dariole upside down onto serving plate and lift the mould off. Scatter macadamias on top. Place one pakalolo beside panna cotta and spoon hibiscus syrup beside.