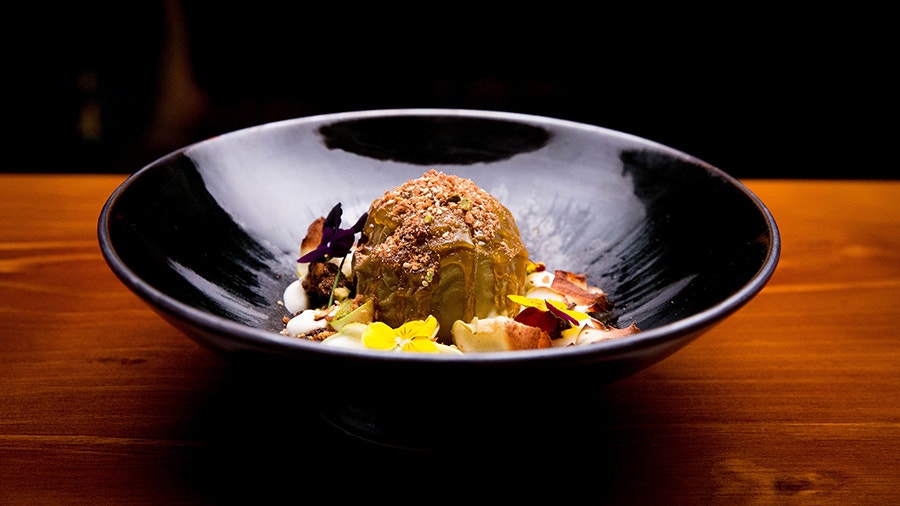 Ingredients
Sweet Dukkah Toffee Coating
Steps
Preheat oven to 250C.
For the Baklava Stuffed Apples, place all ingredients, except apples, together in the bowl of a small food processor and pulse until just combined. Core the apples, pierce skin and fill with the baklava mixture. Place the stuffed apples on a baking tray lined with baking paper and sprinkle excess nut mixture around the apples on the tray.
Place tray into the pre-heated oven and bake, until excess stuffing mixture around the apples is golden brown, about 15 minutes. Remove the tray from the oven, remove the excess nut mixture from the tray and set aside to cool. Return apples to oven and bake until apples are tender but still holding their shape, about a further 5 minutes. Remove from oven and position 1 baked apple half into the centre of each serving plate.
For the Sweet Dukkah, place all ingredients, except caster sugar, into the bowl of a small food processor and process until nuts are in chopped coarsely. Set aside until needed.
For the toffee, place caster sugar into a small saucepan with 25ml water, or enough to just cover the sugar. Bring to the boil over medium-high heat, brushing down the sides of saucepan with a wet pastry brush occasionally to prevent crystallisation. Cook until the sugar has melted and the syrup is amber in colour. Remove from heat and spoon over the baked apples on the serving plates until evenly coated. Working quickly, sprinkle the toffee with the sweet dukkah mixture before the toffee sets.
For the Pickled Apple, combine all ingredients in a medium bowl and set aside to infuse for 30 minutes. Drain well before serving.
Reduce oven to 190C.
For the Apple Slices, spread apple slices over a baking tray lined with baking paper and bake in oven until apple slices are dehydrated and crisp on the edges, about 12-15 minutes. When apple slices are crisp, remove from oven and set aside to cool until needed.
For the Lemon Cream, whisk ingredients together in a small bowl until combined. Transfer to a piping bag and set aside in the fridge until needed.
To serve, roll Pickled Apple slices into cylinders and tuck under the baked toffee apple on each plate. Arrange Apple Crisps around the apples. Lemon Cream around the apple and sprinkle with reserved toasted baklava stuffing. Place edible violets around the plate and serve.