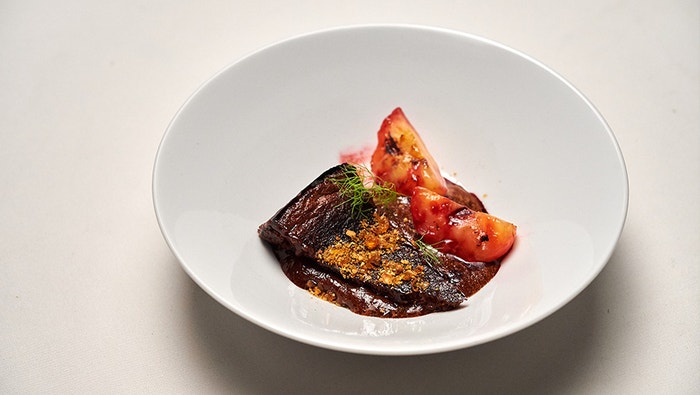 Steps
Preheat oven to 200C.
For the Baked Chocolate Mousse, place chocolate and olive oil in a microwave safe bowl and place in microwave in bursts, stirring after each burst, until chocolate has melted and incorporated with the olive oil.
Meanwhile, whisk the eggs and sugar until thick, pale and fluffy. Add the chocolate mixture and salt and fold through. Pour the mixture into a lined 16cm spring from tin and bake in the oven until almost set, about 12-15 minutes. Remove from oven, cool slightly then place in the fridge to set further until serving.
Increase oven to 250C.
For the Grilled Plums, heat a grill pan over medium high heat. Place the plums, cut side down, on the hot grill and cook until charred, about 6 minutes. Remove from heat and cut each half into half again. Set aside until serving.
For the Blackberry Sauce, place blackberries on a tray then place in oven to cook until liquid is oozing from the berries. Remove from oven and pass berries through a fine sieve into a small bowl. Cover bowl tightly with cling film, insert the nozzle of a smoke gun, ignite and allow bowl to fill with smoke for 5 minutes or longer for more intensity. Transfer to a squeeze bottle and set aside until serving.
For the Hazelnut Praline, place caster sugar in a small frypan and melt over low heat until sugar begins to caramelise. Meanwhile, crush hazelnuts in a mortar and pestle until fine. Once sugar is amber in colour, add crushed hazelnuts then pour mixture onto a paper lined baking tray and set aside to cool. Break into shards, place into mortar and pestle and crush into a coarse powder. Set aside until serving.
To serve, place a slice of the Baked Chocolate Mousse on each serving plate and add Grilled Plums. Sprinkle with Hazelnut Praline, squeeze Blackberry Sauce around each plate and garnish with fennel fronds.