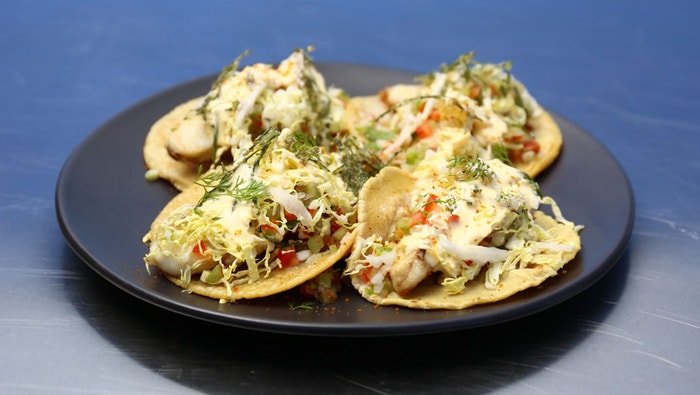 Steps
For the Tortilla, place all ingredients in a bowl and mix well until fully combined. Turn dough out onto a clean surface and knead for 10 minutes.
Divide the dough into 8 even balls. Line a tortilla press with go-between on both plates. Place dough balls, one at a time, onto a tortilla press and flatten. Set flattened tortillas aside in between squares of go-between.
Place a fry pan over high heat. Once hot, add a tortilla and cook until the edges curl slightly then flip and cook on the other side until tortilla inflates. Remove from heat and store in between a damp paper towel until plating. Repeat process for remaining tortillas.
For the Salsa, begin by placing tomatillos, lime juice and a pinch of salt in a bowl and stir to coat. Set aside for 20 minutes to cure. Once ready, add tomatoes, white onion and serrano to the bowl and stir to combine. Season to taste and set aside.
For the Lime Mayonnaise, place kewpie mayonnaise and lime juice in a small bowl and mix well to combine. Set aside.
For the Tempura Samphire, heat oil in a medium saucepan over medium heat.
Place tempura flour and soda water into a bowl and mix until combined. Add samphire and coat completely.
Once oil is hot, add battered samphire and fry until crisp, about 30 seconds. Remove from heat and set aside on paper towel to drain.
To cook the Seared Fish, season fish with salt. Heat a frypan over medium heat. Add 1 tablespoon of canola oil and add fish slices. Sear fish pieces on all sides then remove from heat and set aside.
To serve, line the middle of a Tortilla with some Seared Fish. Spoon some Salsa along the fish then top with some of the finely sliced wombok. Top with some Lime Mayonnaise and finish with some Tempura Samphire and some fresh coriander leaves.