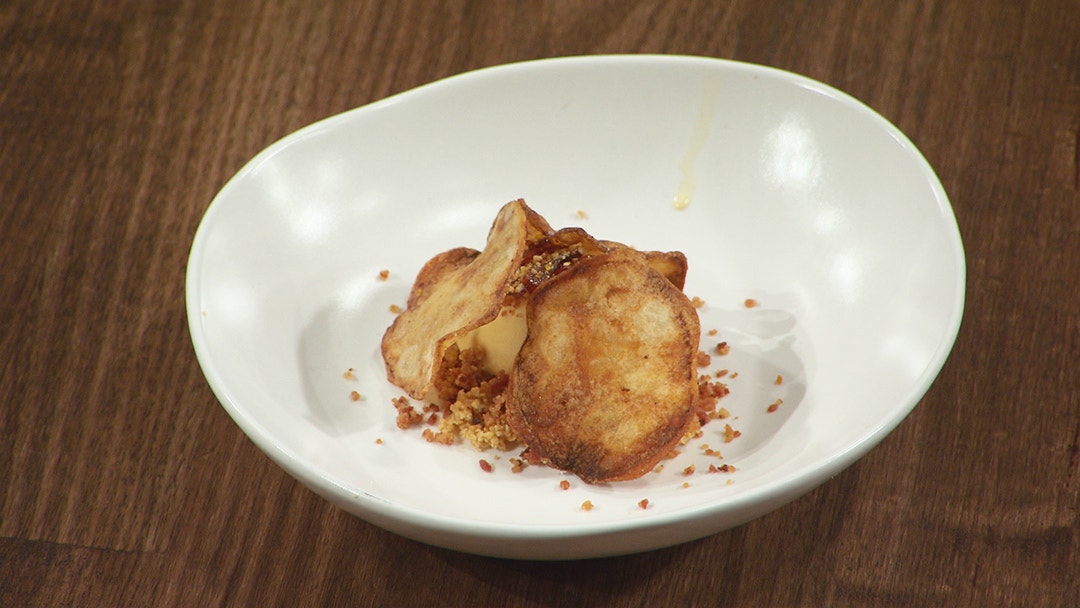 Steps
Prechill ice cream machine and prepare an ice bath in a large bowl.
For the Bacon and Egg Ice Cream, finely chop the bacon and place in a pan over medium high heat. Cook until very crispy then remove the bacon and reserve the rendered fat in the pan.
For the anglaise, combine cream, milk, half of the crispy bacon, 2 tablespoons bacon fat and vanilla in a saucepan over medium high heat. Stir occasionally until small bubbles break the surface. Remove from the heat.
Meanwhile, combine yolks, sugar, maple syrup and salt in a bowl and whisk to combine. Remove from the heat and slowly add just a little to the sugar egg yolk mixture, whisking continuously to temper the eggs. Repeat once or twice more before combining the mixture in the saucepan. Return to a low heat and stir with a silicone spatula until anglaise thickens enough to coat the back of a spoon and reaches 83°C. Strain mixture into a bowl and place over ice bath to cool. Pour into ice cream machine and churn until set. Transfer to the freezer until required.
For the Potato Crisps, peel potato and slice 1mm thick using a mandolin. Place slices in a bowl of water for 5 minutes. Dry potato slices on paper towel and return pan with remaining rendered bacon fat back to a medium heat. Add potato slices and cook until golden and crispy, about 2 minutes. Remove from the pan and place on paper towel. Season generously with salt while still hot.
For the Maple Peanuts, place peanuts on a baking tray and roast in oven for 15 minutes. Remove from the oven and set aside to cool. Place into a food processor and process until finely chopped. Reserve 1 tablespoon for the caramel shards, then add maple syrup to the remainder and stir to combine. Season with salt, to taste. Set aside in an airtight container.
For the Bacon Crumble, add the remaining half of the crispy bacon to a food processor and pulse to a fine crumb. Set aside.
For the Caramel Shards, place the sugar into a saucepan over medium heat until fully dissolved and deep golden amber in colour. Pour the caramel onto a lined baking tray and sprinkle with the reserved chopped peanuts. Allow to set and become very hard, then smash into little shards.
To assemble, place 2 tablespoons of Maple Peanuts on each plate as a base for the ice cream. Sprinkle some of the Bacon Crumb onto the peanuts, then scoop a generous quenelle of the ice cream on top. Top with some Bacon Crumb and Caramel Shards and Potato Crisps.