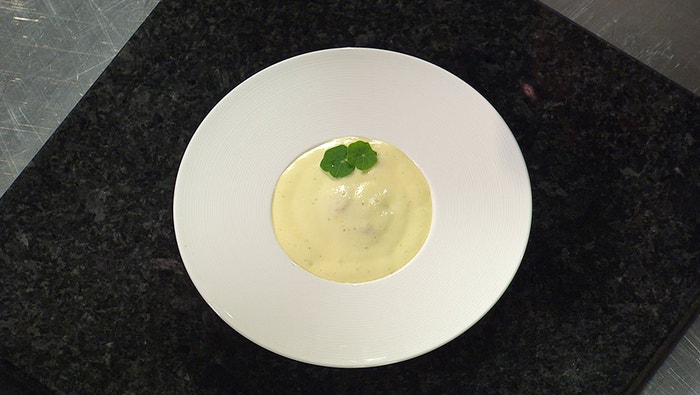 Steps
Preheat oven to 180C. Heat sous vide machine to 64C
For the Sous Vide Eggs, place eggs into the preheated sous vide machine for 45 minutes. Remove from sous vide then plunge into an ice bath for 5 minutes. Drain and set aside on the bench until serving.
For the Smoked Potato Foam, place potatoes into a large saucepan and fill with water. Set over high heat and bring to the boil. Once boiling, continue cooking until potatoes are soft then drain and transfer to a large bowl and set aside to cool.
Once cool, cover the bowl with cling film and insert the hose of a smoking gun. Light the smoking chips and allow the bowl to fill with smoke, then remove hose and seal tightly. Set aside to smoke for 5 minutes, refill bowl with smoke and set aside for a further 5 minutes.
Transfer smoked potatoes to a blender with butter and half of the milk and cream. Blend until smooth about on minute. Add remaining milk and cream and continue processing until smooth.
Transfer mixture to a small saucepan over low heat and cook, stirring continuously, until mixture reaches 70C. Remove from heat and season with salt and pepper to taste. Pour mixture into a 500ml ISI gun and charge twice. Reserve ISI gun in a saucepan of warm water and set aside, keeping warm.
For the Quinoa, place quinoa into a sieve and rinse under water until water runs clear. Place quinoa into a small saucepan with 150ml water and set aside to soak for 10 minutes.
Place saucepan of quinoa onto the stove over medium heat and bring to the boil, stirring occasionally. Once boiling, reduce heat and cover. Continue to simmer until all water has been absorbed, about 10-12 minutes. Remove from heat and allow to stand for 10 minutes, then fluff quinoa using a fork and set aside.
For the Prosciutto Crumb, line a baking tray with baking paper. Place prosciutto onto lined tray and bake in the oven until crisp, about 12-15 minutes. Remove from oven and drain well on paper towel to remove excess oil. Transfer drained prosciutto to a food processor and blitz to a fine crumb. Set aside until required.
For the Roasted Tomatoes, place quartered tomatoes onto a baking tray and drizzle with oil. Place into the oven until soft, about 18-20 minutes. Remove from oven, season with salt and set aside.
For the Roasted Hazelnuts, spread hazelnuts onto a baking tray and place into the oven until roasted, about 8-10 minutes.
Remove from oven and place hazelnuts into a clean tea towel. Rub hazelnuts in the tea towel to remove skins then discard skins. Coarsely chop the peeled hazelnuts and set aside until required.
To plate, place a tablespoon of the Quinoa in the centre of the bowl. Flatten with a dessert spoon to create a groove for the egg to rest on. Peel the Sous Vide Egg, sit on the Quinoa and season with salt. Sprinkle some Prosciutto Crumb around the egg. Place some of the torn prosciutto around the egg. Sprinkle Roasted Hazelnuts over the egg then scatter with some finger lime segments. Place thinly sliced nasturtiums across the top and add some Roasted Tomatoes. Dispense the Smoked Potato Foam over the top to evenly cover. Finish with a few nasturtium leaves.