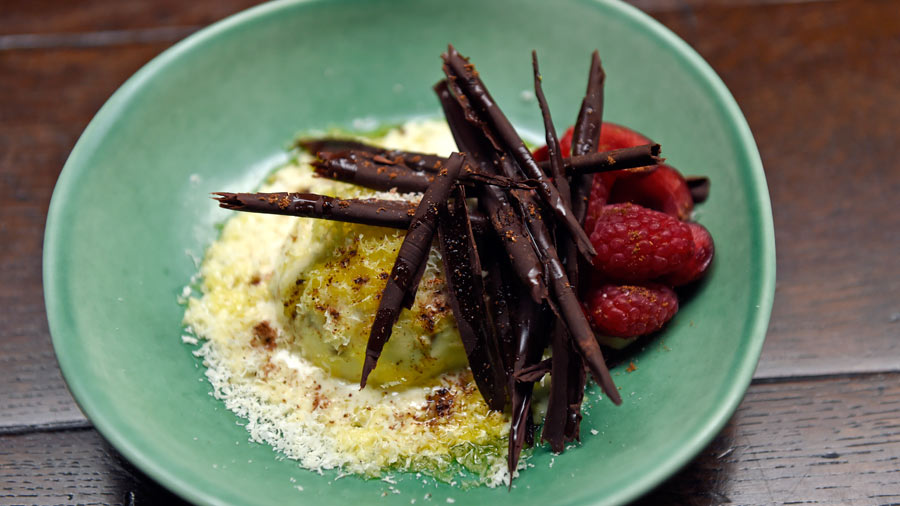 Ingredients
Christmas Pudding Ice cream
Tempered Chocolate Shards
Steps
Set up an ice bath. Turn on ice cream machine to pre-chill. Preheat oven to 60C
To make the Christmas Pudding ice cream, place milk, cream and cinnamon in a saucepan and bring to a simmer. Remove from heat and set aside to cool until needed.
Meanwhile, add egg yolks and sugar to food processor and blend until well incorporated. Discard cinnamon from hot milk mixture, then pour the mixture into the food processor and blend until smooth.
Transfer the anglaise mixture to saucepan and cook, stirring over a low heat until mixture thickens and is able to coat the back of a spoon. Remove from heat, transfer to a large bowl and set over ice bath to cool. Once anglaise has cooled slightly, place in the fridge to cool completely.
Once aglaise is cold, transfer the mix to the bowl of an ice cream machine and churn according to manufacturer's instructions.
In the last 10 minutes of churning, add the chopped almonds, figs, prunes, cumquats and brandy and continue churning until the ice cream is firm. Working quickly, remove bowl from machine and divide between 10 x 7cm silicon dome moulds. Place the moulds on a baking tray and into the freezer until ready to serve.
For the Seasoned Spice Mix, toast the nutmeg and star anise in a small, dry frying pan over a low heat until aromatic. Season with a little salt, remove from heat and set aside to cool until needed.
To temper the chocolate, place 300g of the dark chocolate in a medium sized bowl over a saucepan of simmering water and melt, stirring frequently, until chocolate melts and reaches 45C.
Once chocolate is at temperature, remove from heat then add remaining 150g finely chopped dark chocolate in 3 stages, mixing with a clean dry rubber spatula until chocolate reaches 27C. Return bowl to double boiler and heat, stirring frequently, until chocolate is completely melted and reaches 35C.
Remove the chocolate from the heat and spread onto a clean dry work surface. Using a palette knife, spread out to a thickness of 5mm. Once chocolate has set, use a clean palette knife to gently shave chocolate into large flaky shards. Set shards aside in an airtight container until needed.
About 20 minutes before serving the puddings, place the blanched almonds on a baking tray lined with baking paper and place into an oven preheated to 60C to warm.
Trim cheeks from cherries and set aside in the fridge until needed to serve.
To serve, unmould the ice cream puddings and place in the centre of each serving plate. Brush ice cream puddings very lightly with olive oil. Arrange cherry cheeks and fresh raspberries to one side of the pudding. Remove the warm almonds from the oven and, using a microplane, shave about a teaspoon of blanched almond over each pudding. Sprinkle a little seasoned spice mix over each pudding and around the plate. Top with chocolate flakes and season with a pinch of salt. Drizzle a very small amount of olive oil around the plate.