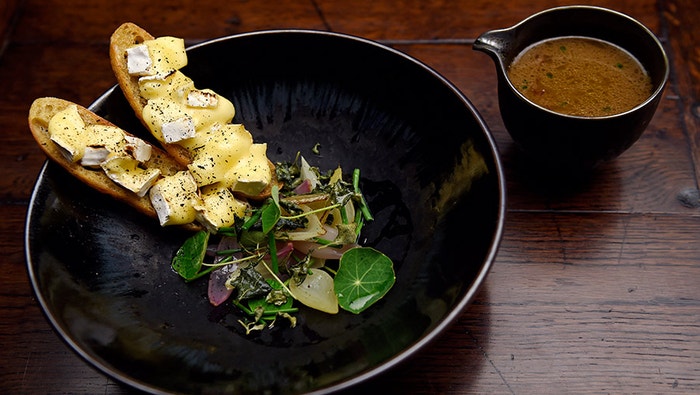 Steps
Preheat oven to 280C.
For the Onion Kombu Stock, place a 5 litre saucepan onto a low heat. Place the onions into the hot pan, cut side down and cook until dark golden brown.
Add the remaining ingredients and 3 litres water. Bring to boil and simmer for 45 minutes then remove from the heat.
For the Onion Soup, place a 7 litre saucepan over medium heat. Add the bones, eschallots and onions and cook until caramelised.
Add the wine and stir to deglaze the pan. Add the garlic and simmer until liquid has reduced by half.
Add the veal stock, Onion Kombu stock and the remaining ingredients and bring to simmer. Cook for 45 minutes, skimming the surface as necessary.
Remove from heat and strain through a cheesecloth lined sieve into a 7 litre saucepan. Season with salt to taste and cover with a lid to keep warm.
For the Onion Ash, place the onion onto a tray and cook in the oven until crisp and blackened. Remove from the oven and set aside to cool.
Push the onion through a fine sieve into a bowl to create ash. Set aside.
For the Sweet Onion, line a small tray with baking paper.
Place ingredients onto tray and toss until mixed. Bake in the oven until onion is soft, pink and opaque.
Remove from the oven and set aside to cool. Cut into 1cm wide strips and set aside.
For the Pickled Onions, place all ingredients, except onions, along with 100ml water into a small saucepan and place over high heat. Stir until sugar dissolves and mixture boils. Reduce the heat. Add the onions, cover and cook for until cooked through, approximately 10 minutes.
Remove from heat and allow onions to cool slightly in the liquid.
Heat a medium frypan over medium heat.
Remove half of the onions from the liquid and cut in half lengthways. Place into the pan, cut side down, until charred. Remove from the pan and separate into petals. Set aside.
Drain the remaining onions and set aside.
For the Fried Saltbush Leaves, heat oil in a medium saucepan to 180ºC.
Add the saltbush leaves, in batches, and cook until leaves stop sizzling, about 15 seconds. Remove from the oil and set aside on paper towel to cool and crisp.
For the Camembert Croutons, place the butter into a large frypan over medium heat.
Add the bread and cook until crispy and lightly golden on both sides. Season with salt and top with Camembert. Remove from the pan. Using a blow torch, melt the Camembert. Sprinkle with a little of the Onion Ash.
To serve, return the saucepan of Onion Soup to the boil. Arrange the Sweet Onions, Pickled Onions and charred Pickled Onions in the base of serving bowls. Add the Fried Saltbush and top with nasturtiums and chives. Pour in hot soup and drizzle with olive oil and salt, to taste. Serve with Camembert Croutons on the side.